Discussion /
"The Desert and the Law," with Branka Arsić, Allison Powers, Oren Yiftachel, and Eyal Weizman
Date: Saturday, 18 February 2017, 4–6 pm
Location: Cabinet, 300 Nevins Street, Brooklyn (map and directions here)
FREE. No RSVP necessary
Facebook Event
Listen to an audio recording of this program, or download
here
.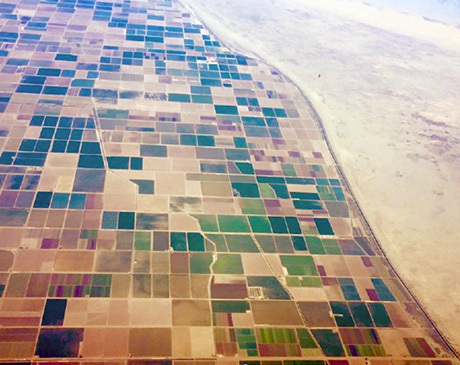 Please join us for a panel discussion on deserts, extraterritoriality, and environmental conditions, featuring Branka Arsić, Allison Powers, Oren Yiftachel, and Eyal Weizman.
The Roman legal principle of terra nullius ("nobody's land")—used in the eighteenth and nineteenth centuries to render land across the frontiers of colonization as "empty," as void of law, sovereignty, or rights of ownership—still haunts contemporary attempts to suspend the rights of indigenous peoples in the interest of development, oil, and mineral extraction.
This event will focus on the various ways in which the extraterritorial condition embodied by the terra nullius principle interacts with environmental conditions—and particularly with those of the desert, a terrain that most clearly captures the idea of emptiness.
The modern definition of what constitutes a desert, and where it begins, has never only been environmentally or geographically determined. Rather, it is a political category, against which human culture, law, and sovereignty are continuously defined. For indigenous peoples, however, the transition zones between fields and forests, and between fields and deserts, are deep frontiers where a liminal kind of agriculture slowly gives way on one side to areas that are cultivated, and on the other side to areas that are cultivated very little.
The panel's speakers will look at historical and contemporary examples from the US and Israel/Palestine in which the definition of the desert interacts with notions of law, territory, and extraterritoriality. Branka Arsić will examine the American imagination of the desert in the nineteenth century by looking at deforestation in the American Midwest, as well as how Herman Melville wrote about his encounter with the desert in his travels through Palestine. Allison Powers will present on the relationship between Mexican nationals in the American-annexed Southwest and the state-sanctioned violence that underwrote the transformation of arid desert lands into commercial farms or mines during the first decades of the twentieth century. Oren Yiftachel's presentation will focus on the plight of the Bedouin-Arab tribes in the Negev desert and their struggle to hold on to their lands and lifestyle in the face of a prevalent terra nullius approach that has "emptied" Bedouin space from its past and future.
The event will be moderated by Eyal Weizman. The presentations will be followed by open discussion.
---
About the Participants
Branka Arsić is Charles and Lynn Zhang Professor of English and Comparative Literature at Columbia University. She specializes in literatures of the nineteenth-century Americas and their scientific, philosophical, and religious contexts. She is the author of Bird Relics: Grief and Vitalism in Thoreau (Harvard University Press, 2016), On Leaving: A Reading in Emerson (Harvard University Press, 2010), and Passive Constitutions or 7½ Times Bartleby (Stanford University Press, 2007). She is currently co-editing (with Kim Evans) a collection of essays on Melville entitled Melville's Philosophies (Bloomsbury, 2017).
Allison Powers is a legal historian of the United States and a PhD candidate at Columbia University. She is currently a 2016–2017 Charlotte W. Newcombe Doctoral Dissertation Fellow with the Woodrow Wilson Institute.
Eyal Weizman is Professor of Spatial and Visual Cultures at Goldsmiths, University of London, where he directs the Centre for Research Architecture as well as the Forensic Architecture research project. An editor-at-large of Cabinet, Weizman is a Global Scholar at Princeton University. His books include Mengele's Skull (with Thomas Keenan; Sternberg Press 2012), The Least of all Possible Evils (Nottetempo, 2009; Verso 2011), Hollow Land (Verso, 2007), and Forensic Architecture: Violence at the Threshold of Detectability, which is forthcoming from Zone Books later this year.
Oren Yiftachel teaches urban studies and political geography at Ben-Gurion University, Beersheba where he holds the Lloyd Hurst Chair in Urban Studies. His research has focused on critical understandings of the relations between space, power, and conflict, with particular attention to ethnic, social, and urban aspects of these relations. Yiftachel is the author of Ethnocracy: Land and Identity Politics in Israel/Palestine (University of Pennsylvania Press, 2006), Indigenous (in)Justice (co-author; Harvard University Press, 2013), and Terra Nullius in the Negev? Legal Geography of Bedouin Struggle (co-author, Stanford University Press, 2017). In parallel, he has worked as an activist and a planner in a range of human rights and civil society organizations, including Adva, the council for unrecognized Bedouin villages, and as chair of B'Tselem.