Discussion /
"The Art of Teaching," with Jeff Dolven, Simon Critchley, and Kelly Baum
Date: Thursday, 7 January 2010, 7–9 pm
Location: Cabinet, 300 Nevins Street, Brooklyn (map and directions here)
FREE. No RSVP necessary
Listen to an audio recording of this program, or download
here
.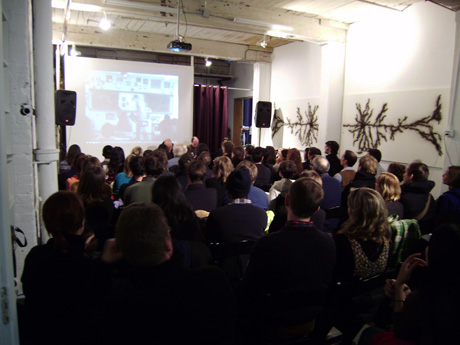 Jeff Dolven, Simon Critchley, and Kelly Baum will discuss the relationship between pedagogy and art by showing segments of videos from Cabinet's current exhibition of work by New Zealand artist Darcy Lange (1946–2005). In the 1970s, Lange took his video camera into schools in Birmingham and Oxfordshire to record the daily business of the classroom, and then put teachers and students on camera again as they watched the record he had made. The result is a penetrating and sometimes uncomfortable study—across a wide range of schools and social classes—of the strange combination of ordinariness and performance that occurs in every classroom. The panel will consider pedagogy as a work of art, and look beyond Lange's work to the surge of interest in didacticism as a mode and motive for contemporary artists.
For more information on Cabinet's exhibition "Darcy Lange: Work Studies in Schools" see here.
---
About the Participants
Kelly Baum is the Locks Curatorial Fellow for Contemporary Art at the Princeton University Art Museum.
Simon Critchley is a philosopher who teaches at the New School. His books include The Book of Dead Philosophers (Granta, 2008) and Infinitely Demanding (Verso, 2007).
Jeff Dolven teaches English at Princeton University, and is the author of Scenes of Instruction (Chicago, 2007). With D. Graham Burnett, he organizes the series Poetry Lab at Cabinet.
This program is made possible with public funds from the New York State Council on the Arts.