"Fair for Knowledge:
Clouds"
Date: Saturday, 16 April 2011, 11 am–4 pm
Location: Jo's restaurant, 264 Elizabeth Street, New York
For table reservations, call 212 966 9640 (recommended)
An event organized by Cabinet and copresented as part of Villa Gillet's "Walls and Bridges" series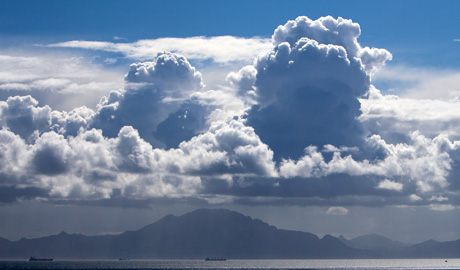 Cabinet's "fairs for knowledge" take learning out of the classroom and into unexpected venues. Focusing on apparently minor topics that, if treated correctly, can in fact open up to a wide number of cultural and scientific disciplines, each fair features six leading experts in a given field ready for brief, spontaneous conversations with members of the general public. Aiming to create bridges between specialists and laymen, these fairs are designed to encourage an informal, social, and open mode of learning.
Following the first installment devoted to the theme of "Hair" at the Brooklyn Flea, this season's fair for knowledge on "Clouds" will take place at a restaurant, where diners can order some food for thought to be served at their table along with their meal.
Reservations with Jo's restaurant recommended but not necessary.
This event has been supported by Villa Gillet and Conseil de la Création Artistique. Special thanks to Jo's restaurant.
Featuring:
Deborah Coen (historian of science)
Pierre Pachet (novelist and literary critic)
Lytle Shaw (literary scholar)
Luc Steels (computer scientist)
Ginger Strand (author)
Carole Talon-Hugon (philosopher)