"Fair for Knowledge: Hair"
Date: Sunday, 30 January 2011, 2–6 pm
Location: Brooklyn Flea, 1 Hanson Place, Brooklyn
FREE. No RSVP necessary
An event organized by Cabinet and co-presented as part of Villa Gillet's "Walls and Bridges" series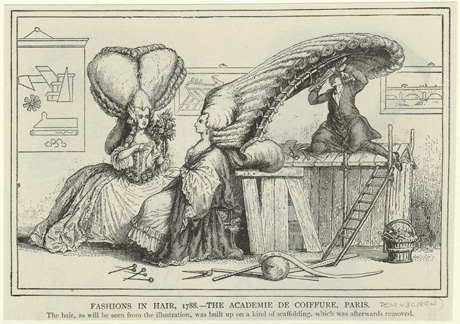 Designed to encourage an informal, social, and open mode of learning, Cabinet's series of "fairs for knowledge" aims to create bridges between specialists and the general public by providing unusual venues for short one-on-one discussions between an expert and a member of the general public. In this first installment, six writers will be seated at kissing-booth-style structures placed between the regular stalls of the Brooklyn Flea and be ready to engage the public in conversation on a topic that occupies our minds a great deal but is considered too lowly to be worthy of serious reflection—hair.
Come and brush up on "hair plucking" among anxious captive animals; Mary Magdalene's hair as described in the Bible; fashion, hairdos, and underwear; hairlessness as a signifier of rationality in the history of philosophy; the exceptional hairstyles of rock stars; shaved women and the symbolic loss of power in the French revolution; and more!
See press on "Fair for Knowledge: Hair" in the New Yorker and Time Out New York.
---
Featuring:
Laurel Braitman (historian of science)
Barbara Cassin (philosopher and philologist)
Cécile Guilbert (essayist)
Justin E. H. Smith (philosopher)
John Strausbaugh (author)
Sophie Wahnich (historian)
This event has been supported by Villa Gillet and Conseil de la Création Artistique. Special thanks to Eric Demby and the Brooklyn Flea.