Performance /
"Ice Music" by Emily Lacy
Date: Saturday, 15 August 2009, 4–8 pm
Sunday, 16 August 2009, 2–6 pm
Location: Cabinet, 300 Nevins Street, Brooklyn (map and directions here)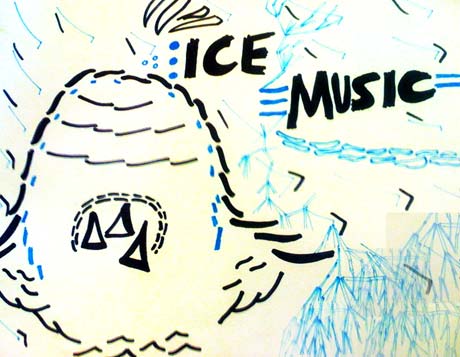 Working with time, music, color, and, temperature, "Ice Music" allows for fantasies of intimate visceral mischief with folk and electronic sound patterns. Performances made for 1-2 people will be available by Emily Lacy inside a small, freshly cooled homemade music environment, similar to an igloo or personal camping tent. Though not required, reservations for 20 minute appointments are recommended.
­Sorry; all slots for this event have now been taken, but visitors are still welcome to see and hear "Ice Music" from the outside between 4–9 pm.
---
About the Artist
Emily Lacy is a folk artist generating works in music, film, and other media. She has performed in exhibitions at PS1 MOMA, The Whitney Museum of American Art, and LACMA, in addition to various livingrooms, subways, and DIY spaces all throughout America. She works very closely with Machine Project, while being based in NY and LA.