Intern Initiative /
"Materia"
Date: 21–24 April 2010
Location: Cabinet, 300 Nevins Street, Brooklyn (map and directions here)
FREE. No RSVP necessary
Gallery hours: 12–6 pm, Wed–Fri
Sound and Video Performance: Dual Channel Cochlear, in minor triads by Jess Ramsay and Alison Ramsay; Saturday, April 24, 3–4 pm
Reception: Friday, April 23, 6–8 pm
Organized by Intern Initiative participants Matthew C. Wilson and Suzanne Stroebe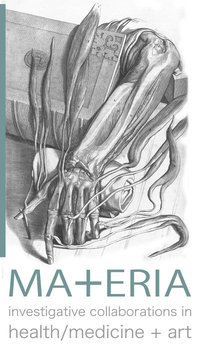 MATERIA: Investigative Collaborations in Health/Medicine + Art
Inspired by the interdisciplinary nature of Cabinet, Matthew C. Wilson and Suzanne Stroebe have brought together ten projects created by collaborative pairs of artists and health professionals. Created specifically for this exhibition, each collaborative piece is an investigation into materiality, drawing on the unique combination of each pair's professional and creative practices. The result is a collection of work that transcends boundaries in order to engage the public in a discussion about how art and health affects us all. This dialogue, about the process of collaboration and the blurring of boundaries between health and aesthetics, is as integral to the show as the projects presented in the exhibition space.
The exhibition features Hana Marie Newman and Rick Arthur Wray, Caroline Woolard and Bert Woolard, Steve Gurysh and Nancy Crooks, Jana Flynn and Eve Ekman, Liz Linden and Elizabeth Milbank, David Schafer and Michelle Stroebe, Jess Ramsay and Alison Ramsay, Greg Lindquist and Nicolas Preitner, Suzanne Stroebe and Teresa Au, Matthew C. Wilson and Saul Melman.
Dual Channel Cochlear, in minor triads, a sound and video performance by Jess Ramsay and Alison Ramsay, will take place on Saturday, April 24, at 3 pm.
Dual Channel Cochlear, in minor triads explores the fields of deaf education, audiology, and music theory in the form of a trio of objects, all emanating, receiving, and transmitting sound simultaneously. The video is a two-minute loop of Alison Ramsay translating an audiogram, detailing the mechanism and inner-workings of a cochlear implant. The sound is a combination of a micro-recording of a natural minor scale. The three objects and three elements of sound create a pulsing, panning minor triad.
The field of deaf education and audiology, and more specifically, the research being conducted on cochlear implants is largely centered on an investigation of translation, transmittance, and subsequent remixing of the variables. The piece seeks to connect three elements: video, sound, and amplification, in an effort to create a minor triad rooted in and produced by creating literal and metaphorical barriers and intervals, leaving no single image or sound, in a recognizable form.
Initially conceived of as a live feed performance via webcam, we will be performing a variation of the piece in remote locations. Still drawing on the concepts of information transmission, translation, and minor scales, both collaborators will be contributing live sound in and out of the gallery space.
For more information, visit investigativecollaborations.wordpress.com
For a PDF of the press release for this exhibition, click here.
---
About the Intern Initiative
The Intern Initiative is a program begun in the fall of 2009 at Cabinet. It aims to bring together interns from a wide range of non-profit institutions across New York City in order to encourage a dialogue on the role of unpaid internships in contemporary society. Additionally, the Intern Initiative offers the opportunity for New York City area interns to collaboratively plan public cultural events at Cabinet's exhibition space.