Panel /
"The Poetics of Caption," with Wayne Koestenbaum, Jeff Dolven, Robert Slifkin, and Catherine Taylor
Date: Saturday, 21 May 2016, 1:30–3 pm
Location: The Whitney Museum of American Art, 99 Gansevoort Street, New York (map and directions here)
Free admission; Advance registration through the Whitney's website highly recommended.
Please join us for a panel discussion organized on the occasion of the publication of Notes on Glaze (Cabinet Books), a new book by poet and cultural critic Wayne Koestenbaum. The book has its origins in the spring of 2010 when Cabinet invited Koestenbaum to begin writing a regular column. Entitled "Legend," the column had an unusual premise; every three months, the editors of the magazine would send Koestenbaum a single image and ask him to write one or more extended captions for it. Drawn from obscure vernacular, commercial, and scientific sources, all of the images were unfamiliar to the author. The volume Notes on Glaze collects all the "Legend" columns, as well as their accompanying photographs.
Notes on Glaze arrives as a serio-ludic manifesto on a basic, ubiquitous, and under-thought modern practice. The panel will provide a taste of the book itself (in the form of a reading by Koestenbaum), as well as responses by three scholars of the relationship between text and image—Jeff Dolven, Robert Slifkin, and Catherine Taylor. The aim is to provide some history and context for modern practices of the labeling and glossing of life, and to scrutinize the caption as a form that arbitrates, unremarked, among title, picture, story, and moral. The afternoon will also feature guest appearances by the book's impossibly variegated cast of characters—ranging from Debbie Reynolds, Duccio, and Barbra Streisand to Hegel, Pee-wee Herman, and Emily Dickinson—as well as a great feast of captions, many baked fresh for the occasion.
For more on Notes on Glaze, see here. The audio for this event was not recorded, alas, but we do have these two excellent drawings by artist Lucy Hogg of the various speakers along with small snippets of their presentations and conversation.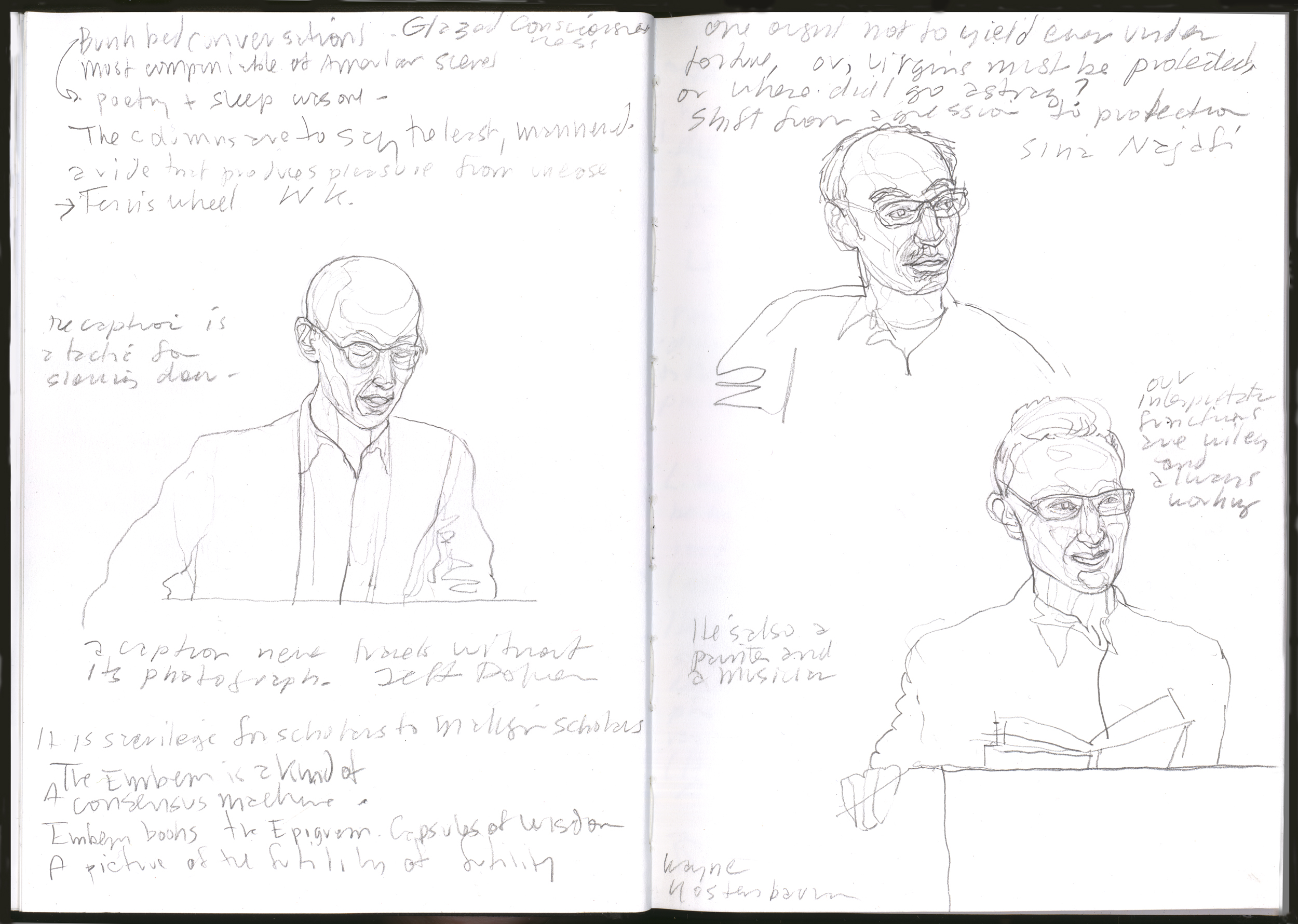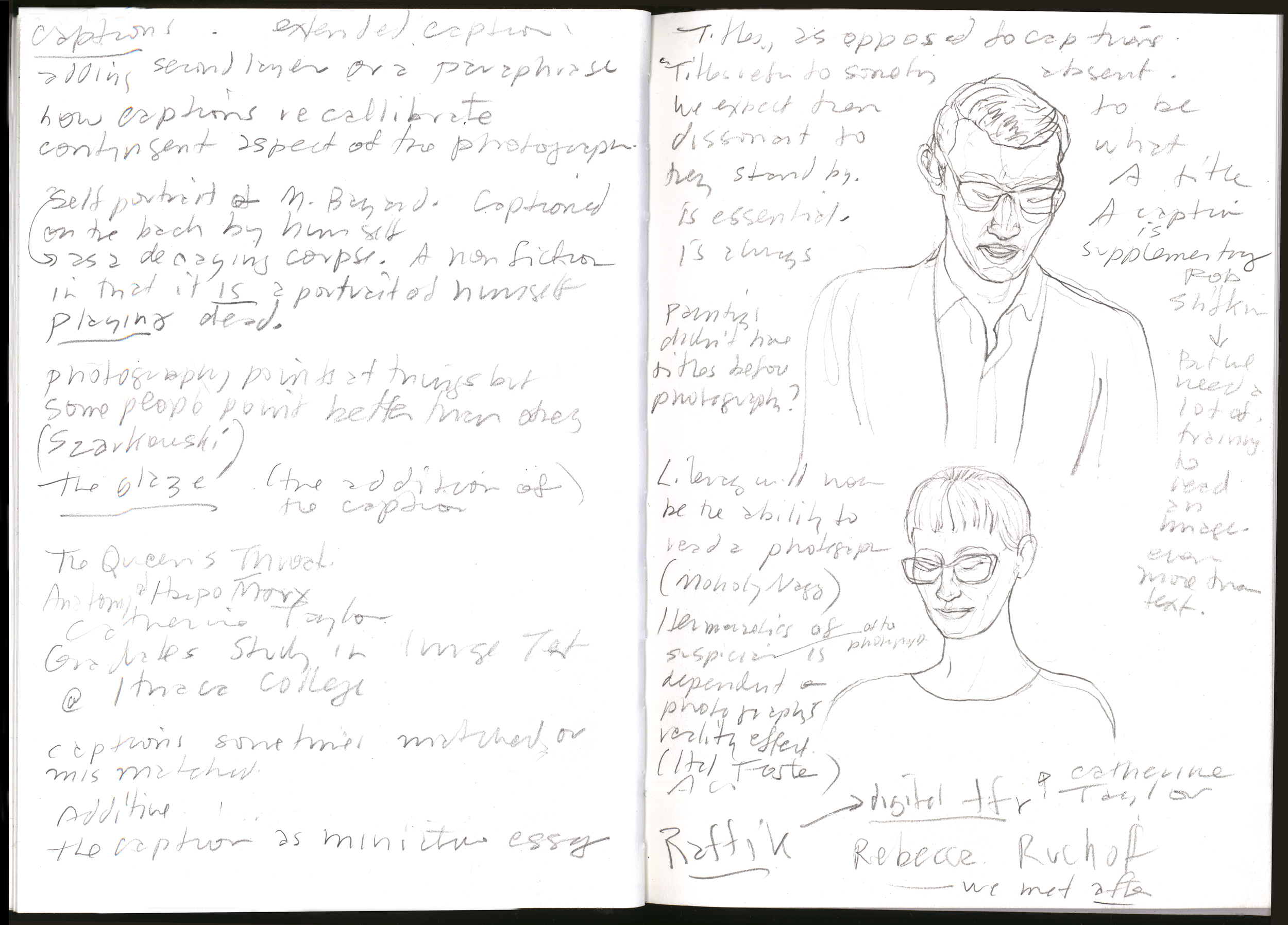 ---
About the Participants
Jeff Dolven is a critic and poet who teaches at Princeton University. He has written on subjects from humanist pedagogy to literary style to player pianos to poisoned milk, and is also an editor-at-large at Cabinet.
Wayne Koestenbaum is a poet, critic, painter, and musician. He has previously published seventeen books of poetry, criticism, and fiction, including The Pink Trance Notebooks (Nightboat Books, 2015), My 1980s & Other Essays (Farrar, Straus & Giroux, 2013), Hotel Theory (Soft Skull Press, 2007), and The Queen's Throat (Poseidon Press, 1993), a finalist for the National Book Critics Circle Award. Koestenbaum's first solo exhibition took place at White Columns in New York in 2012; a survey of his paintings appeared at the University of Kentucky Art Museum in fall 2015, and a solo exhibition opened in March 2016 at 356 Mission in Los Angeles. He has given piano performances at the Kitchen, New York; REDCAT, Los Angeles, the Whitney Museum of American Art, New York; and the Los Angeles County Museum of Art, Los Angeles. He has written the libretti for two operas—Michael Daugherty's Jackie O and Mohammed Fairouz's Pierrot. Koestenbaum has taught at Yale University, both in the English Department and as a visiting member of the painting faculty of the School of Art, and is a Distinguished Professor of English and French at the CUNY Graduate Center in New York.
Robert Slifkin is associate professor of Fine Arts at New York University's Institute of Fine Arts, where he teaches courses addressing various aspects of modern and contemporary art and culture. He is the author of Out of Time: Philip Guston and the Refiguration of Postwar American Art (University of California Press, 2013), and his essays and reviews have appeared in Artforum, American Art, Art Bulletin, October, and Oxford Art Journal. among other publications.
Catherine Taylor is a writer, editor, and teacher who works on a wide range of nonfiction forms. She is the author of the essay "Inanimate Subjects," an exploration of autonomy and power that focuses on puppetry and military drones, and Apart, a hybrid-genre book of memoir and political history that combines prose, poetry, cultural theory, and found texts from South African archives (Ugly Duckling Presse, 2012). She is a founding editor of Essay Press, an independent press dedicated to publishing innovative essays in book form. Taylor received her PhD from Duke University and is co-director of the Image Text Ithaca MFA program at Ithaca College.