Bunk Bed Conversation /
"Memory Is Your Own Museum," with Albert Mobilio & Geoffrey O'Brien
Date: Friday, 16 April 2010, 7–9 pm
Location: Cabinet, 300 Nevins Street, Brooklyn (map and directions here)
FREE. No RSVP necessary
Listen to an audio recording of this program, or download
here
.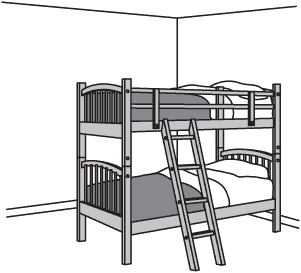 From the top and bottom bunks, Geoffrey O'Brien and Albert Mobilio will reflect on the intricate relations between memory, nostalgia, and our need for a usable past. The discussion will begin in Times Square (consider, if you will, the lost allure of B-movie clips of drunken strip-poker parties) and Chadds Ford (where one man made a museum of his daily life) and follow where memory leads.
This is the second installment in a series of bunk bed conversations at Cabinet, exploring the public potential of this most private, archaic, and companionable of American scenes. For a long time, we used to go to bed early. On April 16, won't you stay up and talk with us?
For a list of all the bunk bed conversations, as well as audio and images from the other installments, see here.
---
About the Sleepy Participants
Geoffrey O'Brien's books include Dream Time: Chapters from the Sixties, The Phantom Empire, The Times Square Story, The Browser's Ecstasy, Sonata for Jukebox, and the poetry collections A View of Buildings and Water and Red Sky Cafe. This summer will see the publication of Early Autumn (Salt Publishing) and The Fall of the House of Walworth (Henry Holt). He is editor-in-chief of the Library of America.
Albert Mobilio's books of poetry include Bendable Siege, The Geographics, and Me with Animal Towering. Another volume, Touch Wood, is forthcoming from Black Square Press. He collaborated with Roger Andersson on Letters from Mayhem, an artist's book published by Cabinet Books. The co-editor of Bookforum, he also teaches at the New School's Eugene Lang College.
This program is made possible with public funds from the New York State Council on the Arts.