Lecture, Screening, and Discussion /
"Aesthetic Justice," with Carlos Motta and Niels Van Tomme
Date: Tuesday, 14 June 2011, 7–9 pm
Location: Cabinet, 300 Nevins Street, Brooklyn (map and directions here)
FREE. No RSVP necessary
Listen to an audio recording of this program, or download
here
.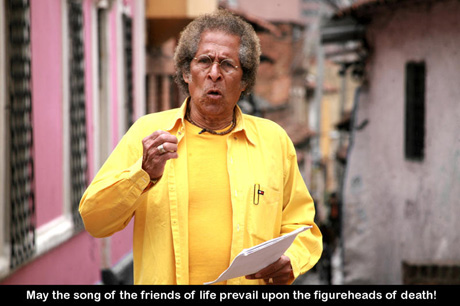 Please join us for a lecture and screening by artist Carlos Motta, followed by a discussion with curator Niels Van Tomme.
In his lecture "Amnesia and Repression: A Series of Attempts to Establish a Memory Project of Political Conflict from an Aesthetic Practice," Motta will discuss his recent video and performance projects Six Acts: An Experiment in Narrative Justice (2010) and Resistance and Repression (2010). In these works, Motta attempts to offer a space for the articulation of memory of political conflicts from an aesthetic perspective. He does so by using the concept of "narrative justice," a notion of justice detached from the judicial field and focused on narrative and communication as pillars of possible reconciliation. The lecture reflects on unresolved instances of political violence in Colombia and Honduras—instances that unveil a lack of a culture of memory and of social justice.
This event is organized within the framework of Provisions Learning Project's "Aesthetic Justice" exhibition on view at the Lambent Foundation in New York until 22 June 2011. The exhibition features the works of Alyse Emdur, Rajkamal Kahlon, Carlos Motta, and Larissa Sansour, and can be viewed by appointment, Tuesday to Thursday, 11 am to 4 pm. Email exhibitions@lambentfoundation.org to schedule an appointment.
---
About the Participants
Carlos Motta is an artist who works mainly in photography and video. He uses strategies from documentary genres and sociology to engage with specific political events, in an attempt to observe their effects and to suggest alternative ways to write and read these histories. See www.wewhofeeldifferently.info for more information.
Niels Van Tomme is a New York–based curator, researcher, and critic. He serves as the director of arts and media at Provisions Learning Project in Washington, DC, a research and production center investigating the intersection of art and social change. See www.provisionslibrary.com for more information.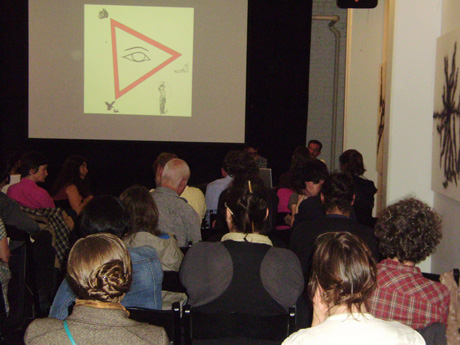 This event has been made possible by a generous grant from the New York State Council on the Arts. Beer for this event has been lovingly provided by Brooklyn Brewery.