Conversation /
"Waves Passing in the Night," with Walter Murch, Lawrence Weschler, and Robert Krulwich
Date: Monday, 6 February 2017, 7–9 pm
Location: Cabinet, 300 Nevins Street, Brooklyn (map and directions here)
FREE. No RSVP necessary
Facebook Event
Listen to an audio recording of this program, or download
here
.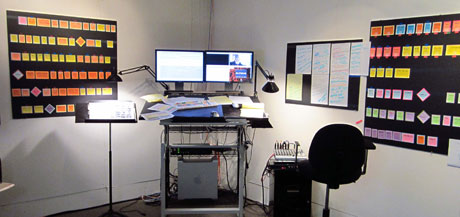 Please join us for a conversation between Walter Murch, Lawrence Weschler, and Robert Krulwich on the occasion of the publication of Weschler's book Waves Passing in the Night: Walter Murch in the Land of the Astrophysicists (Bloomsbury Books).
For film aficionados, Walter Murch is legendary—a three-time Academy Award winner, and arguably the most admired sound and film editor in the world for his work on Apocalypse Now, the Godfather trilogy, The Conversation, and many others. Outside of the studio, his primary passion, pursued for several decades, has been astrophysics, in particular the rehabilitation of Titius-Bode, a long-discredited eighteenth-century theory regarding the patterns by which planets and moons array themselves in gravitational systems across the universe. Though as a consummate outsider he's had a hard time attracting any sort of comprehensive hearing from professional astrophysicists, Murch perseveres in the highest traditions of outsider science. Unfazed by rejection, he has continued to work on the connection he perceives between Titius-Bode and earlier notions of musical harmony in the heavens. Weschler's book probes the basis for how we know what we know, and who gets to say.
For this event, Murch and Weschler will be joined by Robert Krulwich, co-host of WNYC's "Radiolab."
---
About the Participants
Robert Krulwich is co-host of "Radiolab," WNYC's Peabody Award-winning program. He is also the author of the "Curiously Krulwich" blog, featured on National Geographic, where he illustrates hard-to-fathom concepts in science using drawings, cartoons, videos, and more.
Walter Murch is a sound editor, whose films include THX 1138, the Godfather trilogy, Apocalypse Now, The English Patient, and Particle Fever.
Lawrence Weschler is the author of over a dozen books, including Seeing Is Forgetting the Name of the Thing One Sees (University of California Press, 1982; updated and expanded edition, 2008); Mr. Wilson's Cabinet of Wonder (Pantheon, 1995); and Vermeer in Bosnia (Pantheon, 2004).