Silent Mixer
Date: Saturday, 10 April 2010, 8–11 pm
Location: Cabinet, 300 Nevins Street, Brooklyn (map and directions here)
FREE.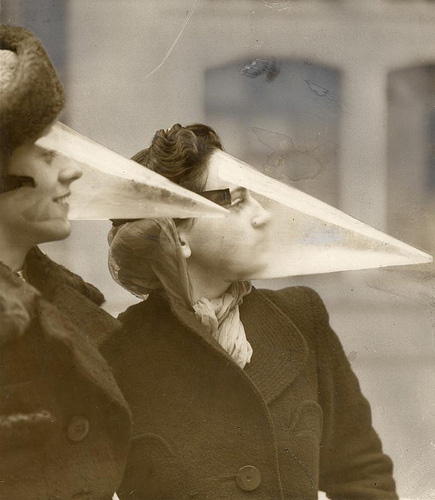 Be quiet and come to "Silent Mixer," a two-part event that provides a chance to engage in voluble party conversation without speaking, and to be silenced by sonic wonders. An experiment in vibrant silence, "Silent Mixer" will celebrate the publication of George Prochnik's new book, In Pursuit of Silence: Listening for Meaning in a World of Noise, and artist Wendy Jacob's performative sculpture, Waves and Signs, a vibrating platform for the experience of tactile sound.
The first ninety minutes of the evening will be a party in which conversation is confined to note scribbling and exchanging (furtive and brazen). This will be followed by a series of extravagant yet quiet acoustical performances on the tactile sound floor. Listeners will experience:
Jack Murphy presenting Happy Cat Orchestra, an arrangement of feline sounds.
Timothy Hill performing excerpts from Body of Sound for solo voice, harmonic singing.
Eric Gunther performing Growl, electronic vocal improvisation for bodies, not ears.
Christopher Ariza performing pulsefact #2 (2010), polyphonic improvisation with live electronics.
Guests are prohibited from talking throughout the event, though they may laugh and make any other necessary, untranslatable sounds. Low-frequency talk will be permitted in Murmurer's Lane, the alley bordering Cabinet's space.
---
About the Performers
Christopher Ariza is a composer and programmer of sonic structures and systems. He has composed computer and acoustic music for digital media, theatre, film, concert-hall, and interactive performance, and performs live electronics solo and in the ensemble KIOKU. He is presently visiting assistant professor of music at the Massachusetts Institute of Technology.
Eric Gunther is an artist, musician, and designer who works on high tech performances and interactive installations. He is part of the musical duo Gloobic, and a member of the artists' collective Plebian Design. His artistic production includes vibrotactile sculptures that explore aesthetic composition on the body. He is a founding partner of the art and design firm Sosolimited.
Timothy Hill is one of the original members of David Hykes' Harmonic Choir, and is pioneer in the art of harmonic, or overtone singing. He is also a composer whose musical explorations have spanned genres including folk, jazz, world, contemporary classical and improvised music.
Jack Murphy is graduating in June from the Massachusetts Institute of Technology with a Bachelors of Science degree in architectural design and a humanities concentration in music.