Screening and Discussion /
The Battle of Chile, with Dr. Óscar Soto
Date: Wednesday, 9 June 2010, 7–9 pm
Location: Cabinet, 300 Nevins Street, Brooklyn (map and directions here)
FREE. No RSVP necessary
Listen to an audio recording of this program, or download
here
.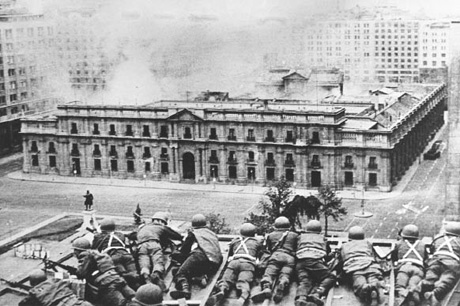 On September 11, 1973, the socialist government of Chilean president Salvador Allende was overthrown in a military coup backed by the US government. The jailings, torture, and persecution that followed largely stamped out resistance efforts inside Chile, but were unable to silence writers, artists, and filmmakers working in exile.
The young filmmaker Patricio Guzmán, using film stock donated by the French filmmaker Chris Marker, had already shot footage for a documentary on the Allende years, right up to the day of the coup. He smuggled the material out of the country to produce his epic three-part documentary The Battle of Chile, the first two parts of which were released to resounding international acclaim in 1975-76. This event focuses on the documentary's second part, "The Coup d'État," which culminates in the assault on the presidential palace on September 11.
Inside the palace on that day, one of the last people to see Allende alive was his young physician Óscar Soto, whose memoir of Allende's last day, El Último Día de Salvador Allende, is now in its second edition. The screening will be followed by a discussion with Dr. Soto, who is visiting New York from his residence in Spain.
(Those who also wish to see Part 1 of the film should come at 5 pm.)
Chilean wine and snacks will be served.
This program is made possible with public funds from the New York State Council on the Arts.