Panel and Book Launch /
"Mess," with Barry Yourgrau, Nuar Alsadir, and Jamieson Webster
Date: Thursday, 29 October 2015, 7–9 pm
Location: Cabinet, 300 Nevins Street, Brooklyn (map and directions here)
FREE. No RSVP necessary
Co-presented with Unbehagen
Listen to an audio recording of this program, or download
here
.
Please join us to celebrate the publication of Barry Yourgrau's Mess: One Man's Struggle to Clean Up His House and His Act (W.W. Norton, 2015) with a panel discussion featuring the author and psychoanalysts Nuar Alsadir and Jamieson Webster.
Things collected, perfectly packed away, overly organized, preserved in plastic, but also broken, stuffed into drawers, or accumulated into a confusion of piles that betray the objects' proximity to detritus—what better spectacle of the object is there than in the many varieties of hoarding? In what ways does hoarding present an inverted and monstrous image of consumerism: desperate, abject souls clinging to mountains of precious rubbish? And is there an aesthetics of hoarding, from certain works based in repulsion and disgust to the formal aspects of some installation art?
Yourgrau, who set out to chronicle his experience "somewhere between clutterer and hoarder," will describe his encounters with professional declutterers, a Lacanian analyst, Clutterers Anonymous, and England's most excessive hoarder. He will also discuss Gogol's Dead Souls as the first piece of literature truly on hoarding, and consider why his twin brother and he share the disorder, as have other, more famous, brother-hoarders. The panel will further examine the intergenerational transmission of mess; the public's near-pornographic fascination with hoarders; and the fine line between consumerism, shopping addiction, collecting, and hoarding, which together make up the psychopathology of everyday object life.
---
About the Participants
Nuar Alsadir is a poet, writer, and psychoanalyst in private practice in New York. Her poems and essays have appeared in numerous publications, including the New York Times Magazine, Slate, Poetry London, and the Poetry Review. A collection of her poems, More Shadow Than Bird, was published by Salt in 2012. She is a fellow of the New York Institute for the Humanities and is on the faculty at New York University's Tisch School of the Arts.
Jamieson Webster is a psychoanalyst in private practice in New York, and the author of The Life and Death of Psychoanalysis (Karnac Books, 2011) and, with Simon Critchley, of Stay, Illusion! The Hamlet Doctrine (Pantheon, 2013). She has written for Cabinet, the Guardian, the New York Times, Playboy, and the Times Literary Supplement, and contributed clinical and theoretical articles to many psychoanalytic publications.
Barry Yourgrau is a writer and performer whose books of short fiction include Wearing Dad's Head (Arcade Publishing, 2011) and The Sadness of Sex (Delta Books, 1995), in whose film version he starred. He has written for the New York Times, Huffington Post, Salon, Paris Review, Bomb, and Vice, among others.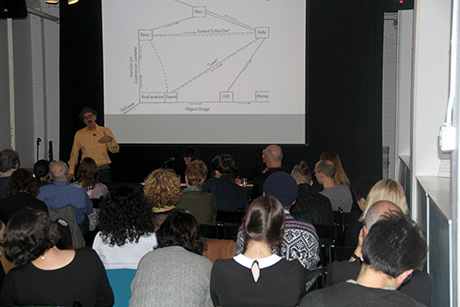 Beer for this event has been lovingly provided by Brooklyn Brewery. Refreshments courtesy of Sprizz-O.