Exhibition / "Tuning Baghdad Tea Salon," curated by Regine Basha
Exhibition dates: 18 May – 7 June 2019
Gallery hours: Wednesdays, Thursday, and Saturdays, 12–5 pm, and by appointment
Location: Cabinet Berlin, Ebersstrasse 3, 10827 Berlin (map and directions here)
Opening events: Saturday, 18 May 2019, 3–8 pm, and Sunday, 19 May 2019, 4–6 pm
Facebook Event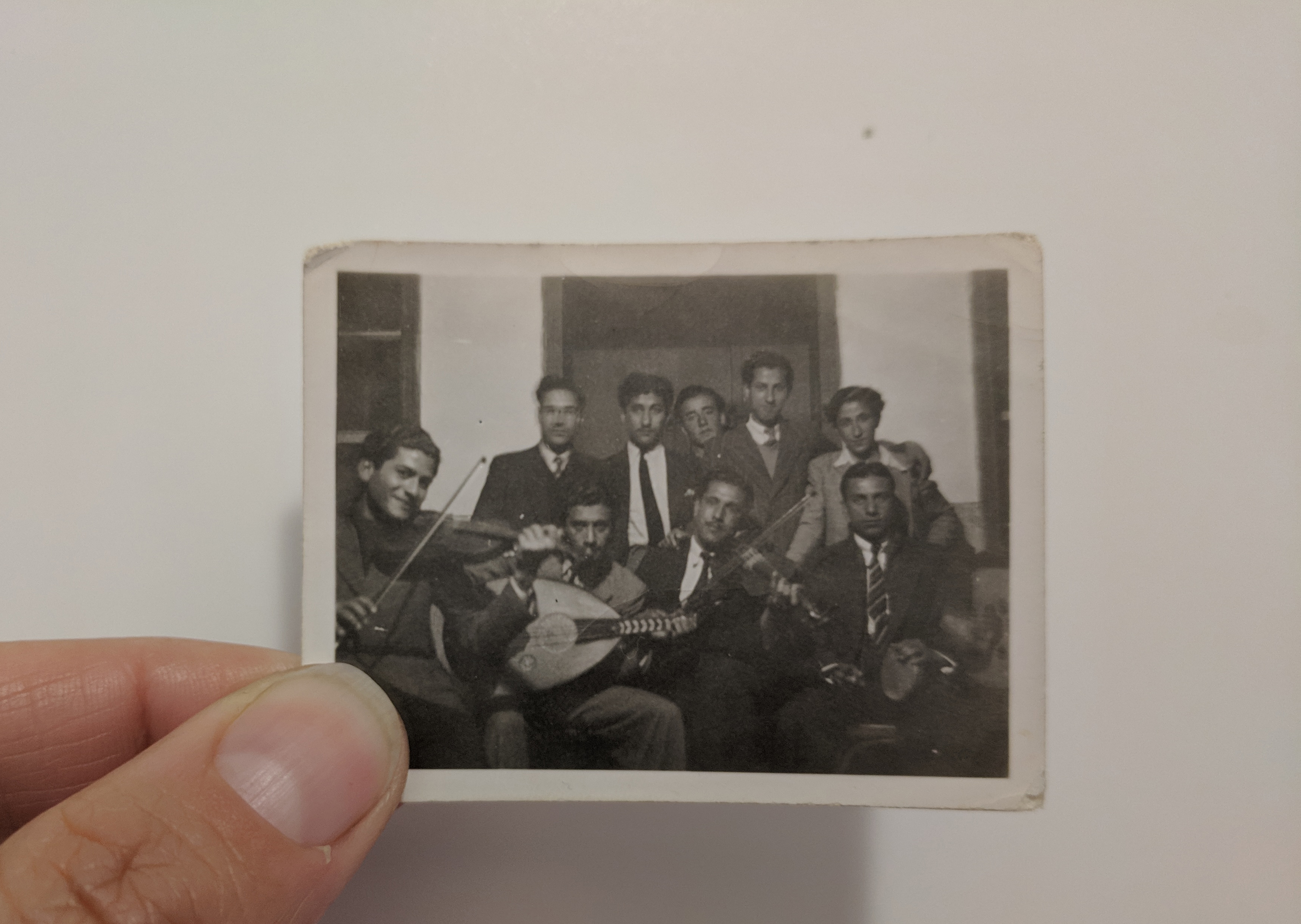 Cabinet is pleased to present "Tuning Baghdad Tea Salon," a three-week engagement with materials from Regine Basha's family archive that provide a point of entry into the musical and cultural life of Iraq's diasporic, 150,000-strong Jewish community that left in the late 1940s and early 1950s and is now spread throughout the world.
In the arena of house parties (called chalghi in the diaspora, after a type of musical ensemble) in Los Angeles, Montreal, London, and elsewhere, the cuisine, social rituals, and music—in particular Iraqi Maqam music—are found intact among the Iraqi-Jewish diaspora. In this context, "tuning Baghdad" refers both to what Basha remembers as the long, protracted affair of tuning instruments at house parties and to the kinds of internal adjustments the guests would make in order to recreate the atmosphere experienced in Baghdadi house parties.
Prior to the 1930s, music in Iraq was for the most part folkloric, ritualistic, or religious—used in Muslim and Jewish prayer, for instance, and primarily heard at weddings, funerals, and circumcision ceremonies. Many of these ritualistic practices were shared between Muslims and Jews, and the communities would often attend one another's gatherings. In 1936, shortly after the establishment of Iraq's national radio service, the Jewish composers Saleh and Daoud El-Kuwaity founded a live broadcast ensemble for it. Radio—a modernizing and secularizing force—also gave voice to a number of other prominent musical ensembles, including a beloved group of Iraqi-Jewish musicians who played so-called chalghi Baghdad music not only at weddings and house parties but also in the city's increasingly numerous coffee houses. In 1932, when the first important pan-Arab music conference took place in Cairo, Iraq was represented by an ensemble consisting of a Jewish chalghi Baghdad group and the Muslim Maqam singer Mohammed Al-Qubanjii.
This same period saw the rise of tea and coffee houses, which were also vital to the development of Iraqi music insofar as they offered social spaces for listening, both to records and to the radio. Egyptian music dominated the Arab world during this era, and it helped introduce Iraqis to modern music that set aside religious themes and instead concerned itself with romantic love and loss, emotional duress, and love of land and country. Eventually, live performances were also offered in these establishments, and a lively scene grew. Though it was only in the late 1930s that women were first allowed into these new spaces and heard this new music, female singers such as Salima Pasha quickly came to be respected, and even idolized, performers.
The history of the development of Iraqi Maqam music, shared as it was between Jewish and Muslim musicians and singers, has been obscured and only recently has the work of historians such as Yeheskel Kojaman and of Iraqi Maqam singers such as Hamid Al-Saadi helped to bring some of this early history to light. This means that the continuity of Iraqi Maqam has had to rely on its being shared by ear from musician to musician, between generations and beyond denomination, ultimately creating a devoted musical citizenship. "Tuning Baghdad Tea Salon"—a space for learning about this music, as well as a venue for hosting related content in the form of film screenings, talks, and live performances by musicians from the region—aims to provide a space for such transmission.
Programs
18 May
3–5 pm: Opening
5–6 pm: Presentation by Regine Basha, followed by discussion with Rola Khayyat
6–8 pm: Screening of On the Banks of the Tigris, directed by Marsha Emerman
Iraqi tea and date cookies will be served.
19 May
4 pm: Live music with oud player Wassim Mukdad
Iraqi tea and date cookies will be served.
Dates for other programs, including a screening of Forget Baghdad, directed by Sami, will be posted as soon as they are finalized.
---
About "Tuning Baghdad"
This exhibition is part of Regine Basha's larger project "Tuning Baghdad," which was launched in 2006, when Basha was in residence at e-flux's "United Nations Plaza" in Berlin. Later, the project was hosted through "Dar Al Sulh" with Michael Rakowitz and Ella Shohat in Dubai and London. A six-episode radio show of the same name was developed at the Robert Rauschenberg Residency in Florida and launched through New York City's Clocktower Radio in 2016. Since its debut, the archive has also been presented as a website, an audio-visual storytelling session, and live musical performances.
Resources:
bashaprojects.com/broadcasts/tuning-baghdad
clocktower.org/series/tuning-baghdad
michaelrakowitz.com/dar-al-sulh
fruitfulfilms.com.au/films/tigris#trailer

About Regine Basha
Regine Basha, daughter of an Iraqi-Jewish emigré who played the oud and the kamanja (both stringed instruments) at countless house parties, is herself neither a musician nor an ethnomusicologist, but an enthusiast of Arabic music. For the past two decades, she has been working as a contemporary art curator, writer, and educator, most recently teaching in the MFA Sound Art Program at Columbia University, New York. She holds degrees from New York University and from the Center for Curatorial Studies, Bard College. Basha recently joined the Civitella Ranieri foundation and residency program as senior program associate. Her exhibitions, projects, and essays can be found on her website bashaprojects.com. "Tuning Baghdad" is dedicated to Sol "Silman" Basha.