Odd Lots: Revisiting Gordon Matta-Clark's Fake Estates
Queens Museum of Art and White Columns, 2005
Curated by Jeffrey Kastner, Sina Najafi, and Frances Richard
Location: White Columns, 320 West 13th Street, New York
Dates: 9 September 2005–15 October 2005
Opening reception: 9 September, 7–9 pm
Location: Queens Museum of Art, New York City Building, Flushing Meadows, Corona Park, Queens
Dates: 11 September 2005–22 January 2006
Opening reception: 17 September, 1–6 pm
"Odd Lots: Revisiting Gordon Matta-Clark's Fake Estates," a two-part exhibition on view at Queens Museum of Art and White Columns, examines the complex and provocative project by Gordon Matta-Clark known as Fake Estates through his original materials, a series of guided tours, and commissioned works by eighteen artists.
Participating Artists and Tour Guides
Artists and tour guides include Francis Alÿs, Jimbo Blachly, Isidro Blasco, Michael Crewdson, Jaime Davidovich, Mark Dion, Maximilian Goldfarb, Valerie Hegarty, Julia Mandle, Helen Mirra, Margaret Mittelbach, Matthew Northridge, Dennis Oppenheim, Sarah Oppenheimer, Dan Price, Lisa Sigal, Katrin Sigurdardottir, Lytle Shaw, Jane South, Jude Tallichet, Nato Thompson, Mierle Laderman Ukeles, and Clara Williams.
With participating artists ranging from Matta-Clark's contemporaries to emerging practitioners, "Odd Lots" seeks to activate the legacy of an "artist's artist" whose dovetailing interests in architecture, sculpture, and performance remain influential across a variety of disciplines. The exhibition de-emphasizes the image of Matta-Clark as a chainsaw-wielding urban land artist obsessed with the "object to be destroyed." Instead, it underscores aspects of his work that investigate dematerialization, use value, and systems of social organization.
Gordon Matta-Clark and Fake Estates
In 1973, Matta-Clark discovered that the City of New York periodically auctioned off "gutterspace"—unusably small slivers of land sliced from the urban grid through anomalies in city planning. He purchased fifteen of these lots, fourteen in Queens and one in Staten Island. Over the next years, he collected the maps, deeds, and other bureaucratic documentation attached to the slivers; photographed, spoke, and wrote about them; and considered using them as sites for his unique brand of "anarchitectural" intervention into urban space. Matta-Clark died in 1978 at the age of thirty-five without realizing his plans for Fake Estates, and ownership of the properties reverted to the city. The archival material that he had assembled went into storage and was not rediscovered until the early 1990s, when it was assembled into exhibitable collages. Thus, Fake Estates has emerged not only as a mordant commentary on issues surrounding property, materiality, and disappearance that marked the whole of Matta-Clark's career, but as artifacts of his own estate, reminders of the powers of absence and presence that govern our relationship to the past.
"Odd Lots: Revisiting Gordon Matta-Clark's Fake Estates"
"Odd Lots" is organized in two parts. The contemporary portion of the show invites eighteen artists to present speculative projects responding to the provocation of the interstitial "gutterspaces." Working in a variety of media, the artists consider the ways in which the Fake Estates sites and Matta-Clark's purchase of them might be used as contexts—literal or metaphorical—for new sculpture, drawing, photography, performance, and installation. The City of New York no longer auctions such microparcels, but Cabinet has obtained licenses for the ten original slivers still on the city's books. Taking this nominal jurisdiction as a starting point, the artists propose fantasy excavations, fleeting performances, interactions with the neighbors, and spatial or atmospheric re-imaginings of the land as site, symbol, and situation. In addition to three projects originally created for the "Property" issue of Cabinet magazine in 2003, "Odd Lots" will present newly commissioned works at White Columns, an alternative art venue founded as 112 Greene Street in 1970 by Jeffrey Lew and Gordon Matta-Clark.
The historical component of "Odd Lots," at the Queens Museum of Art, will utilize the hall dedicated to the Panorama of the City of New York to examine the history of Matta-Clark's project and the bureaucratic origins of the property slivers. The Fake Estates sites will be marked on the Panorama, while multimedia documentation will trace the origins of the slivers themselves by revealing the ways in which administrative procedures in Queens County produced these idiosyncratic spaces. A selection of Matta-Clark's Fake Estates collages will also be on display. In addition, on view at both venues will be a recently rediscovered film, shot by video artist and cable television pioneer Jaime Davidovich, documenting a 1975 visit by Matta-Clark to several of the Queens sites.
Bus Tours
In addition to the artists' projects at White Columns and the installation of archival material and Matta-Clark's original documents at the Queens Museum, "Odd Lots" offers a series of bus tours to selected Fake Estates sites in Queens. Acknowledging that the land itself is not identical to the cultural devices that frame it—such as maps, deeds, and leases, or even artworks—the bus tours will bring viewers face to face with the magnificently mundane slivers themselves. Each tour will be guided by a special guest tour guide or team of guides, and will last approximately two hours. The tours, which are free, depart from the main doors of the Queens Museum at 2 pm.
September 17: Jaime Davidovich will take the group to some of the sites that he and Matta-Clark visited in 1975. There will be an on-site performance by Julia Mandle in which performers will mark the space between two of the microplots.

October 1: Jimbo Blachly, Lytle Shaw, and the Chadwicks—two nineteenth-century dandies—will lead a Grand Tour of Matta-Clark's Queens.

October 15: Mark Dion, Michael Crewdson, and Margaret Mittelbach will lead "The Magical Misery Tour: A Natural History of Queens"

October 22: Nato Thompson will lead a tour highlighting the tactical resistance of everyday life. From ebullient window displays to Maoist bakeries to cars parked in the wrong direction, this tour will provide a glimpse into the cartography of resistance that surrounds our lived experience.

Please note: Space is limited and spots should be reserved in advance by calling + 1 718 592-9700 extension 128 or emailing cur-intern@queensmuseum.org.
Catalogue
"Odd Lots" will also be accompanied by a catalogue, edited by the curators and distributed worldwide by D.A.P. This book, which will present the most complete history of Fake Estates to date, features new interviews with Matta-Clark's contemporaries who remember the genesis of the project, as well as with curators and others who worked with his estate to assemble the material. The catalogue traces the evolution of the work and considers the questions of authenticity and intentionality that circulate around Fake Estates. An essay by co-curator Frances Richard places Matta-Clark's project in the context of his career, while New York City historian Jeffrey A. Kroessler contributes an essay situating Matta-Clark and Fake Estates in the context of SoHo and Queens during the notorious fiscal crisis of the early 1970s.
Schematic Drawings of All 15 Lots to Scale



Aerial Maps of Queens and Staten Island Showing Lot Locations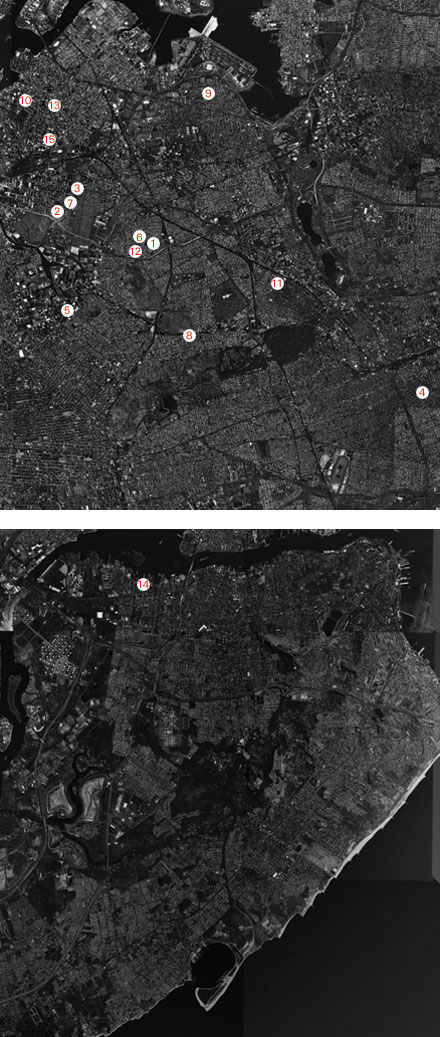 Odd Lots is sponsored by generous grants from the National Endowment for the Arts and Altria Group, Inc.