Spring 2005
Back Cover / The Last Laugh
Brian McMullen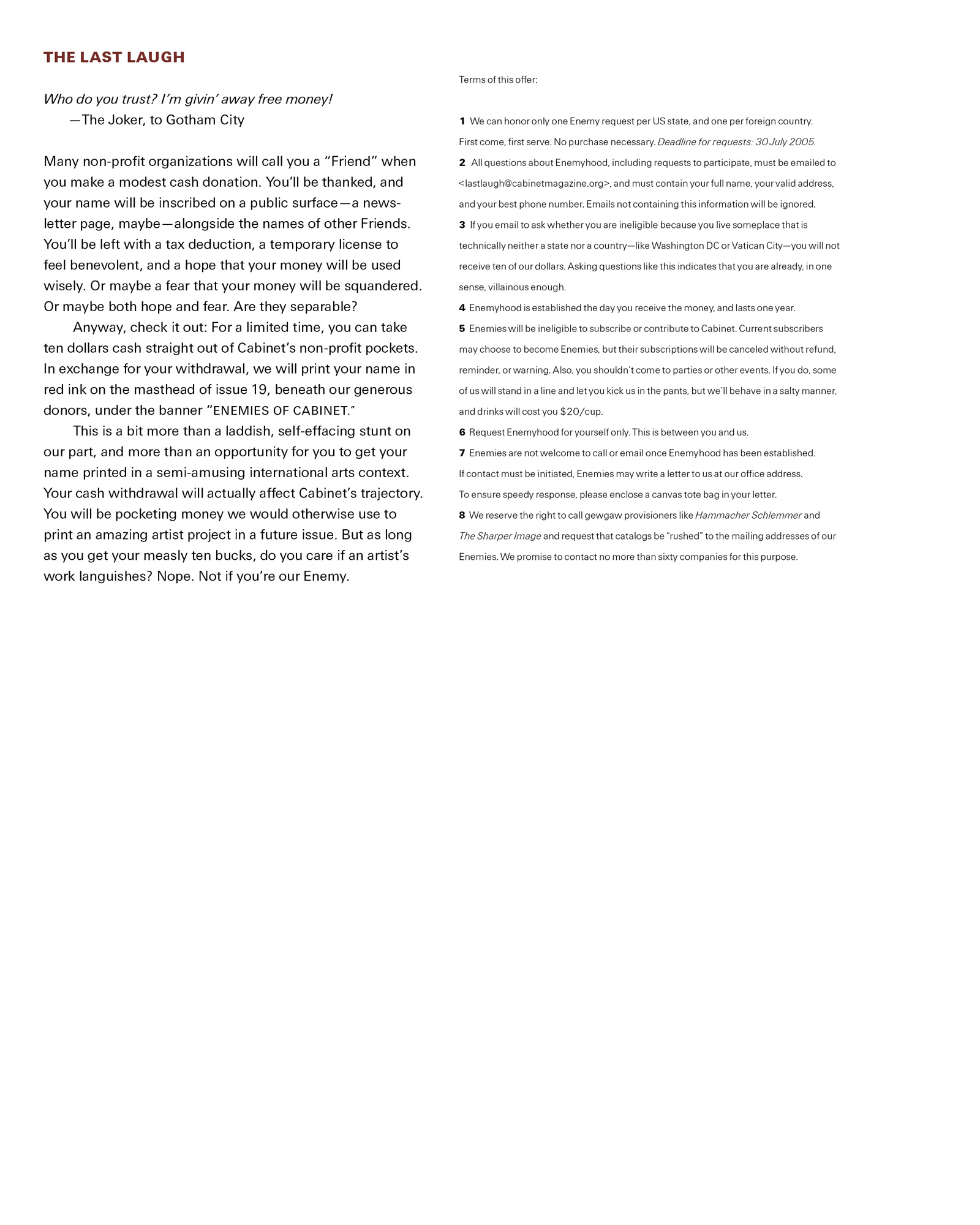 Who do you trust? I'm givin' away free money!
—The Joker, to Gotham City
Many non-profit organizations will call you a "Friend"when you make a modest cash donation. You'll be thanked, and your name will be inscribed on a public surface—a newsletter page, maybe—alongside the names of other Friends. You'll be left with a tax deduction, a temporary license to feel benevolent, and a hope that your money will be used wisely. Or maybe a fear that your money will be squandered. Or maybe both hope and fear. Are they separable?
Anyway, check it out: For a limited time, you can take ten dollars cash straight out of Cabinet's non-profit pockets. In exchange for your withdrawal, we will print your name in red ink on the masthead of issue 19, beneath our generous donors, under the banner "ENEMIES OF CABINET."
This is a bit more than a laddish, self-effacing stunt on our part, and more than an opportunity for you to get your name printed in a semi-amusing international arts context. Your cash withdrawal will actually affect Cabinet's trajectory. You will be pocketing money we would otherwise use to print an amazing artist project in a future issue. But as long as you get your measly ten bucks, do you care if an artist's work languishes? Nope. Not if you're our Enemy.
Terms of this offer:
We can honor only one Enemy request per US state, and one per foreign country. First come, first serve. No purchase necessary. Deadline for requests: 30 July 2005.
All questions about Enemyhood, including requests to participate, must be emailed to lastlaugh@cabinetmagazine.org [email defunct—Eds.], and must contain your full name, your valid address, and your best phone number. Emails not containing this information will be ignored.
If you email to ask whether you are ineligible because you live someplace that is technically neither a state nor a country—like Washington DC or Vatican City—you will not receive ten of our dollars. Asking questions like this indicates that you are already, in one sense, villainous enough.
Enemyhood is established the day you receive the money, and lasts one year.
Enemies will be ineligible to subscribe or contribute to Cabinet. Current subscribers may choose to become Enemies, but their subscriptions will be canceled without refund, reminder, or warning. Also, you shouldn't come to parties or other events. If you do, some of us will stand in a line and let you kick us in the pants, but we'll behave in a salty manner, and drinks will cost you $20/cup.
Request Enemyhood for yourself only. This is between you and us.
Enemies are not welcome to call or email once Enemyhood has been established. If contact must be initiated, Enemies may write a letter to us at our office address. To ensure speedy response, please enclose a canvas tote bag in your letter.
We reserve the right to call gewgaw provisioners like Hammacher Schlemzmer and The Sharper Image and request that catalogs be "rushed" to the mailing addresses of our Enemies. We promise to contact no more than sixty companies for this purpose.
Brian McMullen is managing editor and graphic designer of Cabinet. He has just founded a General Catalogue of Non-Essential Stock Photographs, which you can browse at the Believer magazine website, www.believermag.com.
If you've enjoyed the free articles that we offer on our site, please consider subscribing to our nonprofit magazine. You get twelve online issues and unlimited access to all our archives.