Summer 2007
Koringa: From Biknar to Blackpool
A female fakir's story
Vanessa Toulmin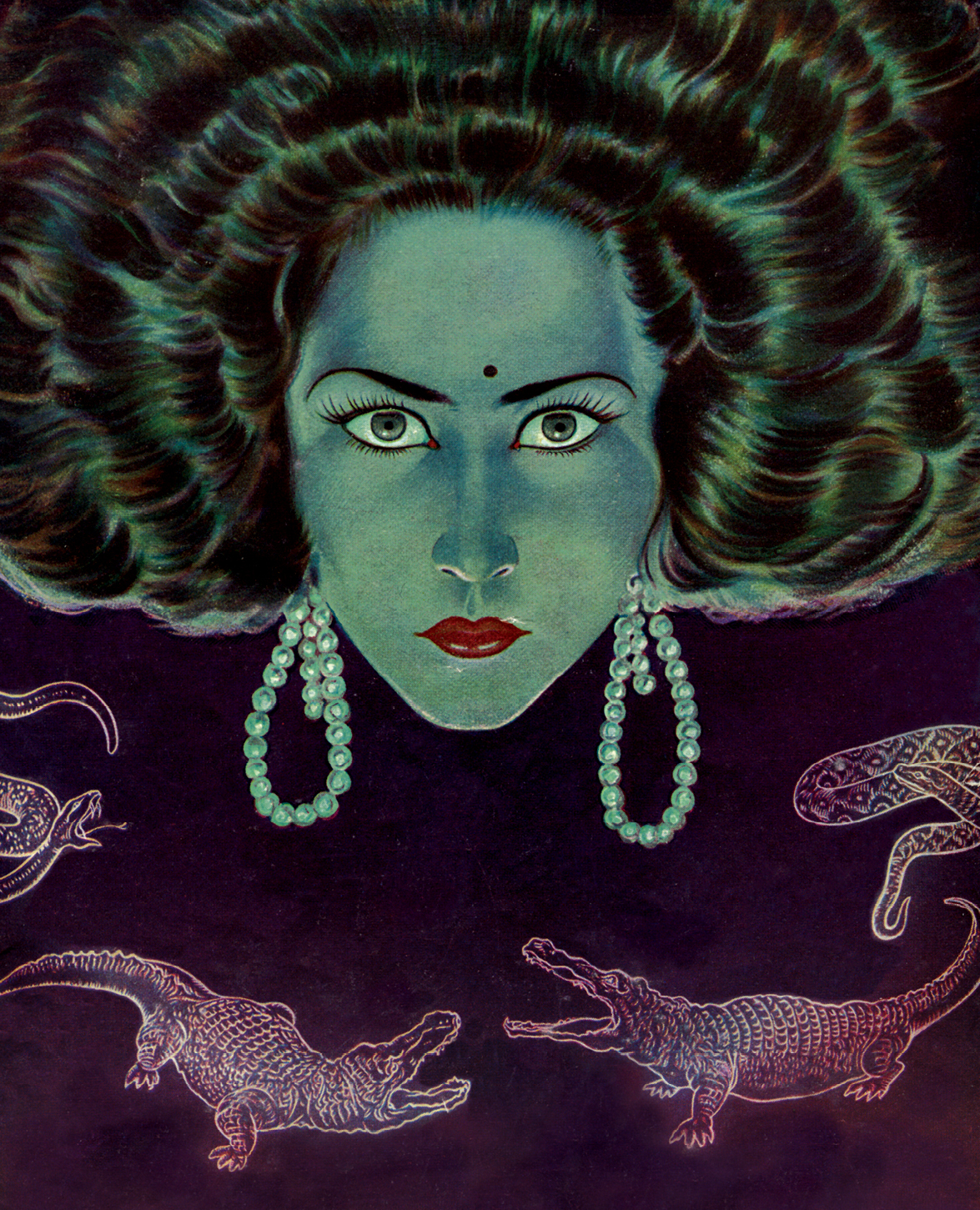 Theatrical magic has often been seen as a male preserve, with the rise of all-male magic clubs in the 1900s in the United Kingdom and the United States perpetuating the myth that magic was best presented by a debonair male performer, at times with the help of a female assistant. However, as in all institutions that seek to present a formal and legitimate face to the world, the story of magic has another face—a parallel history that unfolded in music halls, fairgrounds, and circuses and one that was distinctly female. From the nineteenth century onwards, magiciennes performed as illusionists and as purveyors of magic entertainments, a marginalized history catalogued by Frances Marshall and Amy Dawes in Those Beautiful Dames.[1] Rejected by the more traditional hidebound establishments, magiciennes found the circus arena—free from the constraints of the clubs and organizations that did not allow women members—the ideal place in which to perfect and present their skills.
Among these performers was the exotic beauty, Koringa (1913–1976), whose advertisements proclaimed her to be the "Only Female Fakir in the World." According to the publicity issued by Mills Brothers Circus, where she performed from 1937 onwards, Koringa was a native of India who was raised by fakirs in Bikanir after being orphaned at the age of three. It was from them that she purportedly learned the arts of sorcery and magic, including the ability to mesmerize, walk over broken glass with her bare feet, and be buried in a snake-infested sand pit. Born Renée Bernard in Bordeaux, she was in fact discovered by the Mills brothers working in a small touring circus in France in 1937, where they were amazed to see her dancing barefoot on a ladder of razor-keen sword blades. By 1938, she was the leading act for Mills Brothers, appearing in Blackpool at the legendary Tower Circus, touring France with Cirque Pinder, and South Africa with Boswell's. A dancer, magician, circus artiste (as well as a member of the French Free Forces who performed secret missions in World War II), the story of Koringa in part reflects her period's complex fantasies toward the "Orient." With her exotic beauty and flamboyant stage presence, Koringa created an aura that was steeped in the traditions of India, a country with which female performers in the West had had a long-standing love affair. From snake charmers to exotic dancers, the lure of India became an essential part of performers' identity and, as Sarah Dadswell writes, "the British audience craved the colourful theatrical display of Indian exoticism."[2]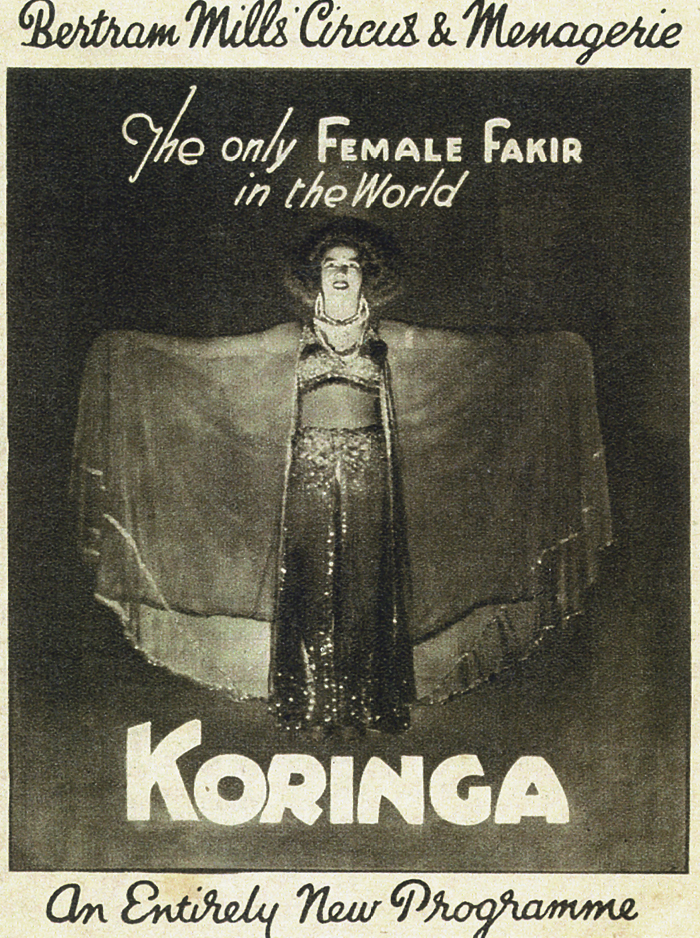 Koringa performed alongside four female assistants, all dressed in Eastern costumes, and five live crocodiles, the largest named Churchill. Her particular expertise was the art of mesmerism or hypnotism: she startled her audience with her ability to walk on the heads of hypnotized crocodiles in a specially designed tank whilst wearing a necklace of live serpents. Her stage persona as a wildly coiffured green-tinted exotic was artfully crafted and drew on a number of influences within performance history. Her makeup, for example, was characteristic of European supernatural silent films, where green tinting indicated the presence of the uncanny or the otherworldy, a visual feature put to great effect by the German Expressionists. Her afro-styled hair was reminiscent of the Circassian beauties first presented by P. T. Barnum in the 1860s at his American Museum in New York. Barnum and other showmen had drawn on Circassian women's mythical reputation for beauty, spirited nature, and love of eroticism, and turned them into a sideshow attraction that maintained its popularity throughout the nineteenth century. However, unlike the snake charmers, Circassian beauties, and other exotics of the Victorian period who often played a secondary role to the main attraction, Koringa was the headline star at many major international European circuses until she stopped touring in 1960. Her sense of style, elaborate costumes, and magnetic stage presence remained a feature of her shows until her retirement in France in 1968.[3]
Koringa was not the first female performer to step out of the traditional role of the magician's assistant and take center stage. Artistes such as Okita (1852–1917), Iona (1888–1973), and Talma (1861–1944) mesmerized audiences in the early 1900s; contemporary "beautiful dames" as diverse as performer and sex-activist Annie Sprinkle, artist and show woman Rose English, diva of magic Romany, and performance artist Marisa Carnesky continue magic's hybridization with not just circus, but many other striking and provocative performance genres.
Frances Marshall & Amy Dawes, Those Beautiful Dames, (Chicago: Magic Inc, 1984), pp. 43–75. This index of American and British female magicians is long out of print. An updated and revised version of the British section, written by Amy Dawes, will be published in the Journal of Early Popular Visual Culture, vol. 5, no. 2 (2007) under the title "The Female of the Species: Magiciennes of the Victorian and Edwardian Period."
Sarah Dadswell, "Jugglers, Fakirs, and Jaduwallahs: Indian Magicians and the British Stage," New Theatre Quarterly, vol. 23, no. 1 (February 2007), pp. 3–24.
John Turner, Twentieth-Century Circus People, 1901–1950 (Formby: Lingdales Press, 2005).
Vanessa Toulmin is founder and director of the National Fairground Archive in the University of Sheffield Library. Recently completing a five-year project with the British Film Institute on the Mitchell & Kenyon Collection, she has published widely on nineteenth- and twentieth-century circus and fairground history. With Blackpool City Council, she is currently organizing "Admission All Classes, Entertainment for the Masses, 1850–1950," an eighteen-month showcase of events, lectures, and exhibitions.
If you've enjoyed the free articles that we offer on our site, please consider subscribing to our nonprofit magazine. You get twelve online issues and unlimited access to all our archives.