Spring 2010
Barrier Is Everywhere
Block and yaw
Jocko Weyland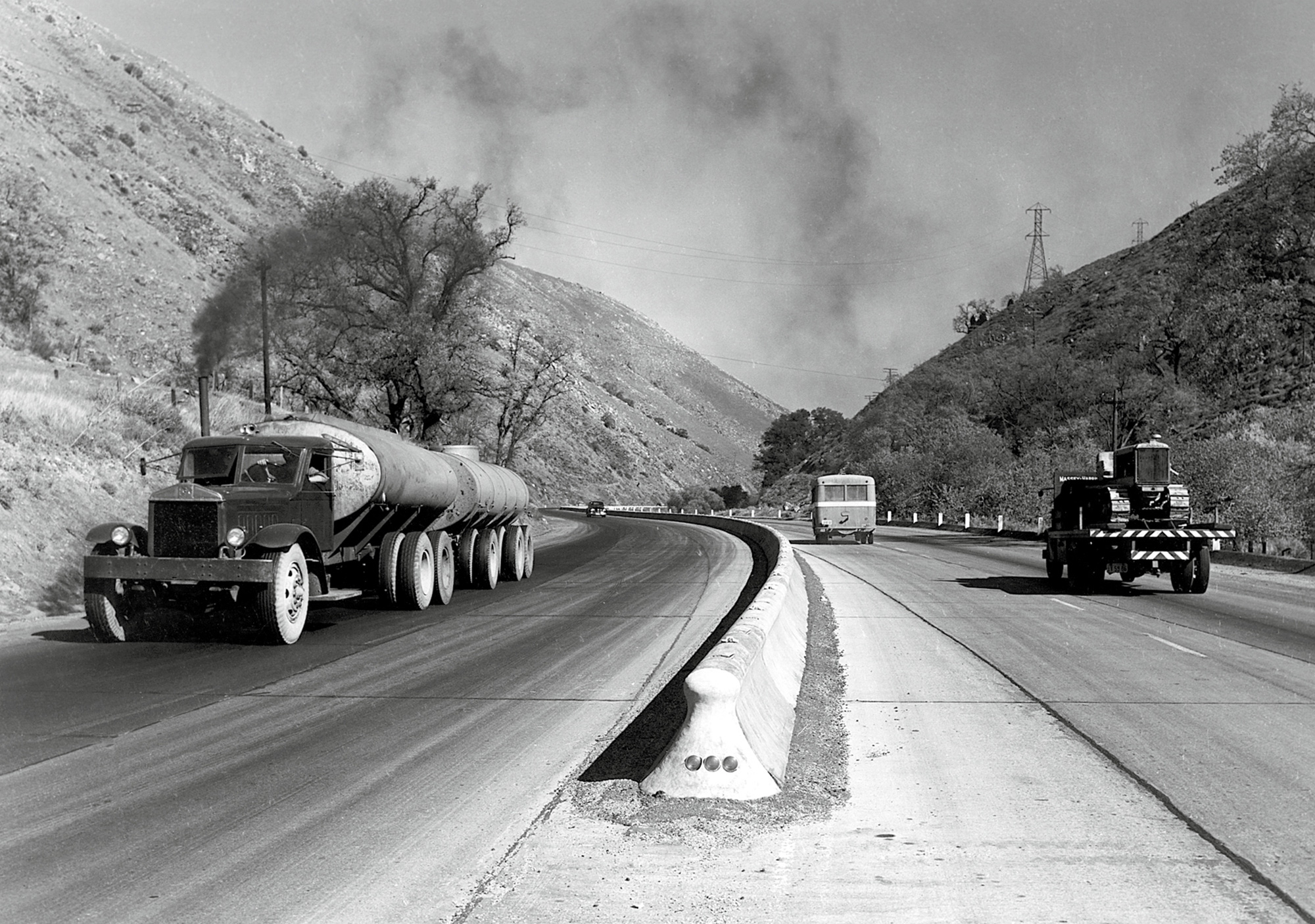 They are found on endless miles of American highways, in war zones, and in the breaches of compromised floodwalls surrounding New Orleans, among other places. Twelve-and-a-half feet long and thirty-two inches high, they are known by many names—Pennsylvania Separators, traffic dividers, or K-rails—and their kin include the F barrier, the Texas Barrier, the Alaska Barrier, the "T" and "L" barriers, the Ontario Tall Wall, and the water-filled orange plastic barrier. But the classic is the venerable Jersey barrier.
Standardized, never deviating from that wedge form, almost always white, and not too exciting to look at, these ubiquitous roadside "attractions" are associated with the state of New Jersey despite the fact that they were actually first developed in California for use on the Grapevine Grade, with its infamous "Deadman's Curve," on the Ridge Route highway linking Los Angeles and the San Joaquin Valley. Consisting of a 4,000-foot elevation change and a curving six-percent mountain descent full of treacherous grades, the road was initially outfitted with wood-beam guardrails on steel posts to separate lanes. But these were damaged by truckers brushing their vehicles against them to supplement braking on downhill runs; moreover, they couldn't stop vehicles that struck them at wide angles and breached the rail, and the Grapevine Grade continued to have a higher than average incidence of fatal head-on collisions. In 1946, the California Division of Highways removed the guardrails and installed parabolic concrete median barriers in twenty-six-inch-high, twenty-eight-inch-wide, ten-foot-long sections weighing three thousand pounds each. These immediately proved to be successful in deterring truckers from using them for braking and also in preventing collisions, garnering positive notices the following year in the construction industry bible, the Engineering News-Record.
In 1949, New Jersey installed concrete median barriers on US Route 22 in the state's rural Hunterdon County. State Highway Department engineers came up with a nineteen-inch-high, thirty-inch-wide curb with concave parabolic faces on each side. They also added another feature that proved important; a two-inch-thick outer layer of white concrete that was much more reflective than standard grey cement and thus more visible at night. The barriers reduced the number of head-on collisions from fifteen in 1955 alone to only one over the following three-and-a-half years; injuries fell by seventy-five percent. Barriers had proven their usefulness, and over the next few years they were installed on seventy-five additional miles of highway. By 1959, a standard height of thirty-two inches with a twenty-four-inch-wide base was settled upon. These refinements in size and color, as well as the barriers' widespread deployment, have bestowed upon New Jersey the honor of being forever linked to these workhorse slabs.