Fall 2001
Airport Disease
Mehran Karimi Nasseri's thirteen-year layover
Matthew Rose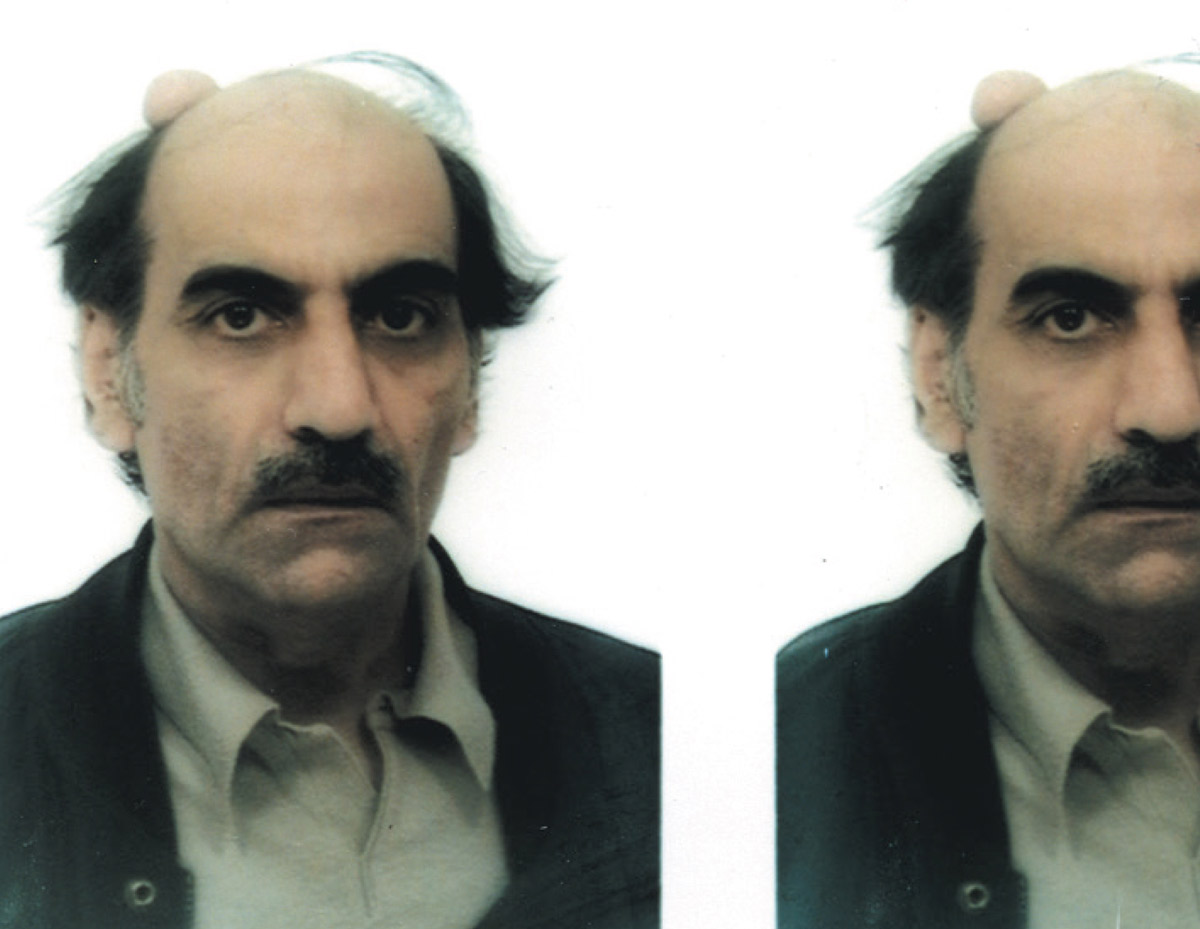 "I'm waiting for my identity," says Mehran Karimi Nasseri, touching the lesion that has erupted on his scalp as he inhales nearly half of his Dunhill in one drag. He sighs, looks around, smiles. Surrounded by a decade's worth of newspapers, magazines, clothes and books, a Sony Walkman, an alarm clock, and a pair of Lufthansa boxes containing his 1000 page-plus handwritten diary, Nasseri, or "Alfred" as he is known, lives on a 1970s red plastic bench in the departure lounge of Terminal One at Paris's Charles de Gaulle Airport. In November he will mark his 13th anniversary there.
Mehran Karimi Nasseri's story begins in 1977. Expelled from his native Iran for anti-government activity, he bounced around Europe for a few years before receiving official refugee status from Belgium in 1981. Nasseri lived as a student there and traveled to the UK and France without difficulty until 1988, when he landed at Charles de Gaulle Airport after being denied entry into Britain because his passport and United Nations refugee certificate had been stolen. He was detained for days, then weeks, then months, then years. His limbo stretched on. French human-rights lawyer Christian Bourget took on the case and the media homed in. Dozens of articles appeared in the world press, and at least three documentary films were made. Oddly enough, with all the attention focused on Nasseri, none of his relatives or friends sought him out.
In 1995 the Belgian government, which originally issued Nasseri's refugee papers, said he could come back and live in Belgium. But after spending seven years of his life in the airport, Nasseri proclaimed that he was intent on living in the UK because, he asserted, his mother was Scottish. (He's since claimed several nationalities, including Swedish, then Danish and, briefly, Finnish). By then Nasseri, who'd been getting along well with the food coupons and occasional gifts of money and clothes, had begun to show the strains of waiting, and was afraid to move for fear of arrest—a concern Bourget said was totally unfounded. Finally the Belgians agreed to reissue the original documents if Nasseri would come to Brussels and sign them in person. But Bourget's client protested that he couldn't cross the border without his papers and so again he refused.
With Bourget's persistence, the documents were sent from Brussels, but again Nasseri refused to sign them. Why? The papers, he complained, listed his name as Mehran Kamari Nasseri, which "is not my name." Nor was Iran his birthplace anymore. Alfred explained his new name to one newspaper: "The UK immigration forms offer a space for an adopted name, and I chose Alfred because I thought it sounded nice. One day I got a letter back from them addressed to me as 'Dear Sir, Alfred,' and so it just stuck." Sir Alfred was born on an immigration form.
Identity is the key issue for Alfred, and the contemporary international airport, symbol of anonymous global nomadism, is perhaps where it is best expressed. Piped-in muzak and inaudible announcements for flights that are boarding, delayed, or canceled, for missing persons and lost children, or for reminders not to smoke, give airports the quality of a restless dream. Its participants are forever shifting, standing, stretching, buying a magazine, turning a page, crossing their legs, staring into a stage filled with extras, and nervously checking their passports, proof of who they are.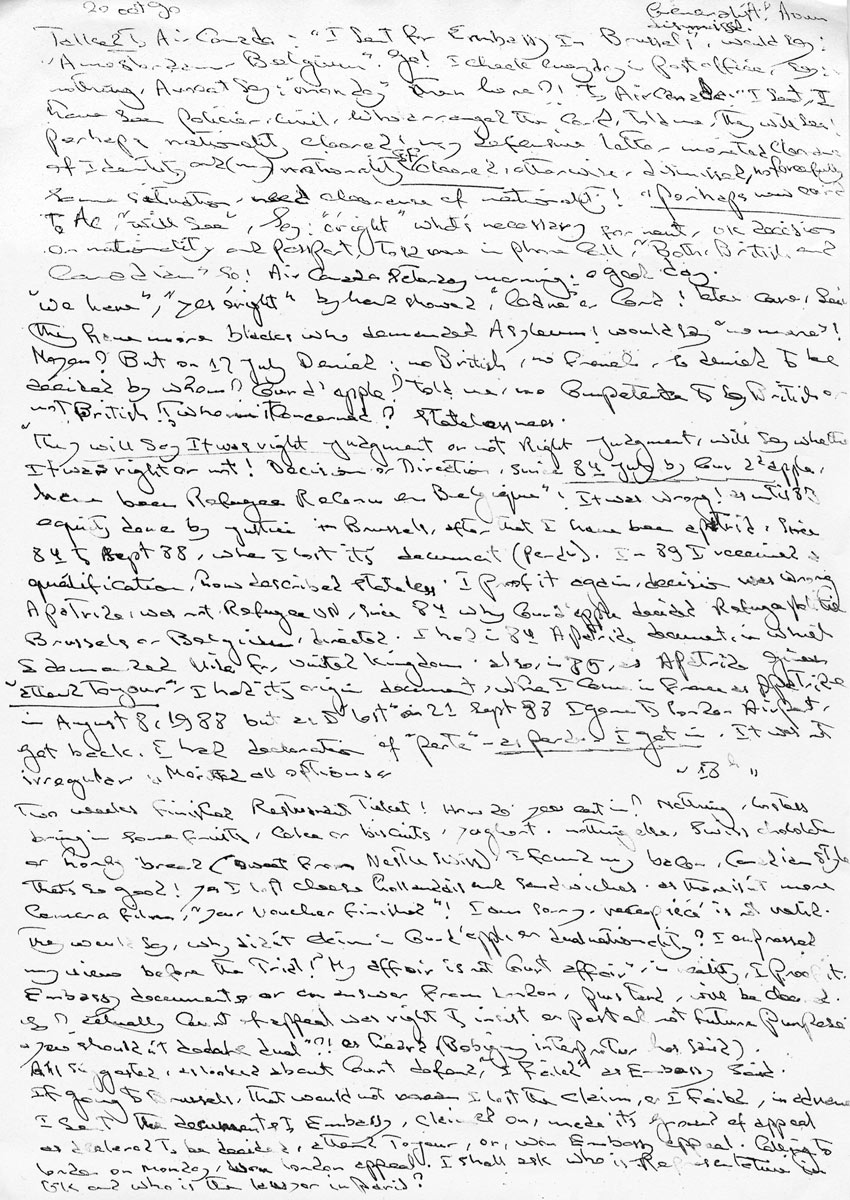 When I asked "Alfred" over a meal of Big Macs on his bench if he was Iranian, he said that he was not, and was still waiting to find out where he is really from, who he really is, even where his parents are now. "The United Nations High Commission on Refugees will establish my identity and my place of birth," he said confidently. He hasn't had any contact with the UNHCR since before Christmas 2000.
"He blames Iran for many of his problems," Dr. Philippe Bargain, chief medical officer for the airport told one newspaper in 1999. "We have to convince him to sign his legal papers with his original name. It is a ridiculous situation." It's not only ridiculous but scandalous, says airport chaplain Père Fournier, who calls Nasseri a "bel escroc" (a pretty swindler). Fournier believes he "not only has his passport, but he has plenty of money…from the films and from what people give him." Dr. Bargain, who sees Alfred more often than the other principals in the saga, finds him a pleasant man, but admits, "He is a bit mad… He has all the papers he needs, but he won't leave."
"There's nothing I can do for him anymore," adds Bourget, who hasn't seen him in more than two years. "Now he cannot face the possibility of leaving because he has a nest there. And he feels that if he goes out he will not be a media star anymore. His story is finished." While the French police have no legal right to remove him, they probably wouldn't risk even a diplomatic effort to get him to go. "They don't want to try anything because immediately dozens of reporters would be there to tell the story," says Bourget.
So Alfred sits and waits for the United Nations High Commission on Refugees. But when I called their Paris office to get an update on his case, I was told, "It's pure folly," by a spokesperson. "No, we are not trying to locate his mother and father and give him his identity." While the UNHCR does work in the airports, largely in the zone d'attente helping foreign nationals seeking asylum, Alfred has all the papers he needs. There are no other papers for him. The refugee no longer needs asylum.
The airport is a city of speed, maximizing the commodification of modern life: ATMs, fast-food restaurants, people-movers, hotel services, rent-a-car desks, rental carts for moving your life's belongings, all compressed in an environment dedicated to getting you in and out as fast as possible. There is little "present tense" in the airport—few dawdle there for their own pleasure, although in-flight magazines would have you believe otherwise with their promotions of duty-free shopping and upscale first class lounges. Gilded with promising ads of blue skies, white beaches and filled with roaming armed police, airports are the ideal places to live out the future if you had no home and wanted people to come to you.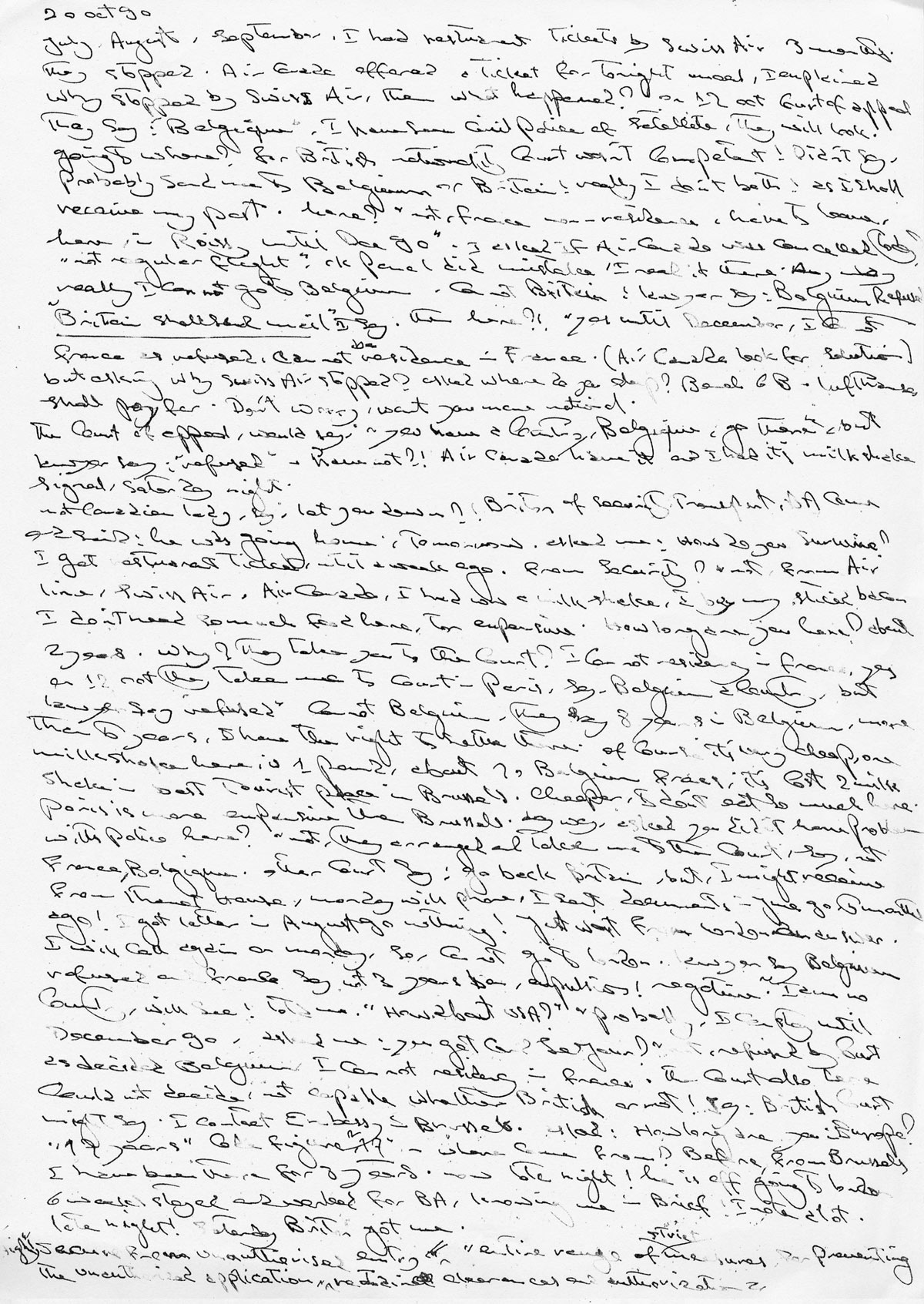 Alfred lived within throwing distance of the McDonald's for most of the booming 1990s. He celebrated Christmas and the new millennium at the little round table he's acquired and positioned at the center of his universe of carts and objects. He doesn't speak French and says he does not dream. He has no friends and little contact with the airport employees although everyone knows him. Certainly Alfred is an observer of change as well as stasis, although what it means to him is a mystery. He regards the world through daily newspapers (his subscription to Time magazine was stopped by the airport post office a few years ago). But he has also observed the world change around him—the McDonald's used to be a Burger King; the CD vendor moved into the push-scooter market.
To keep himself occupied, Alfred keeps a longhand journal that details whom he has met and things he remembers about his case. "Some points each day," he says. But he doesn't have a mobile phone and it isn't clear he'd know how to use one; he's never seen the Internet although he knows he can be found on it (he showed me an article on him printed out from the New York Times web site). Alfred does, however, know how to survive, and without paying rent or taxes.
But maybe the slim balding man with the trim mustache has found his place after all—as a celebrity homeless person. Indeed, Alfred, whose closest "neighbors" are a photo booth and a copy machine, is eerily Warholian. And this in effect might explain why, even after receiving in 1999 a special European travel visa (which permits him to voyage and live anywhere in Europe, even the US), he refuses to leave. If he did leave, it would mean tacit acceptance of an identity.
As a gift for his time, I brought Alfred a book I thought might open him up to life beyond the asphalt and concrete gardens of Charles de Gaulle, a paperback copy of Carl Sagan's Is There Intelligent Life in the Universe? "I will read this," he said, intrigued, thumbing through the pages. "Thank you."
If you've enjoyed the free articles that we offer on our site, please consider subscribing to our nonprofit magazine. You get twelve online issues and unlimited access to all our archives.