Spring 2011
Legend / Pale Khakis with Dark Socks
Recidivist, recidivist!
Wayne Koestenbaum
"Legend" is a column by Wayne Koestenbaum in which he suggests one or more possible captions for an image provided by the editors of Cabinet.
---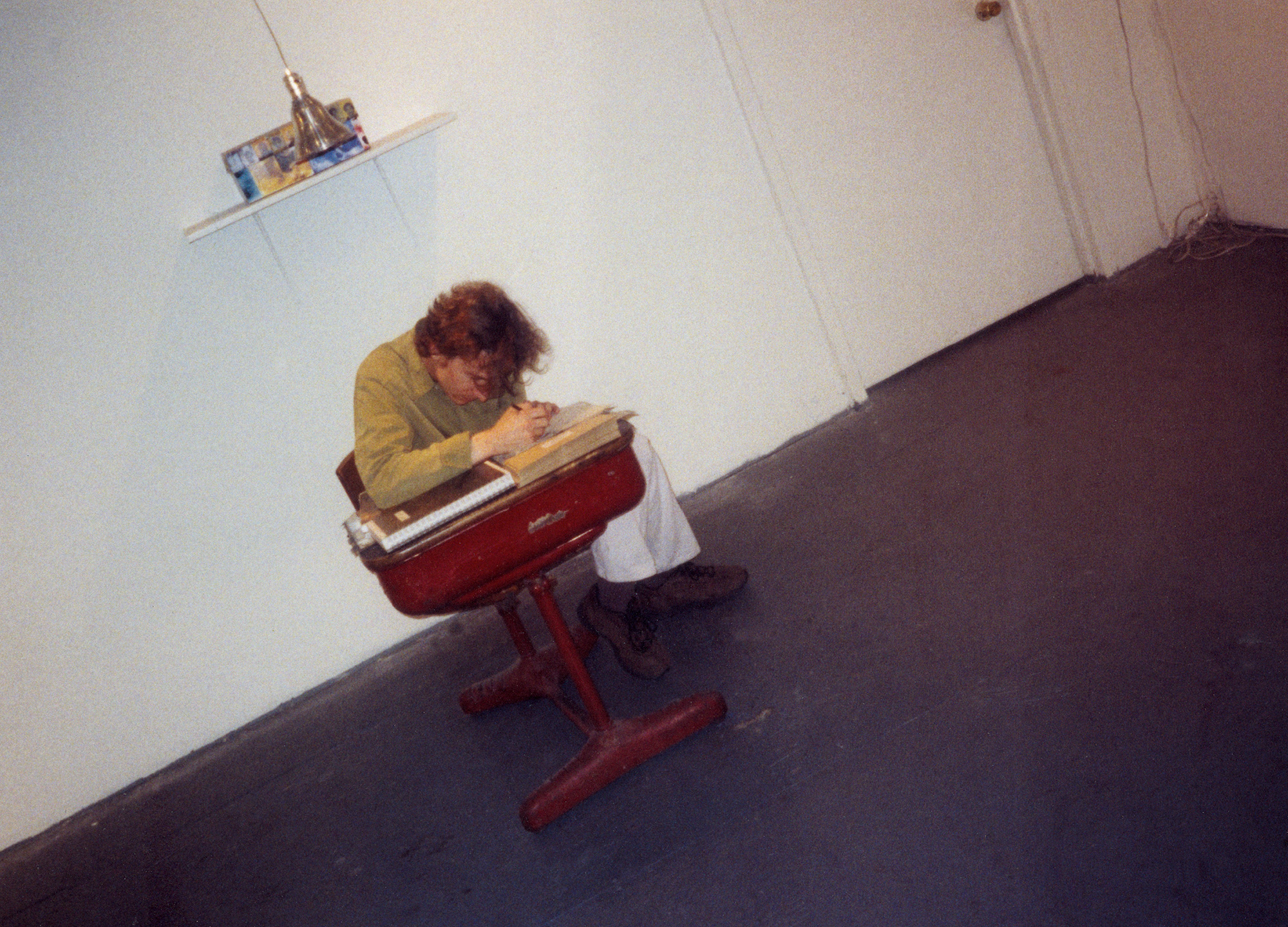 One September, my elementary school almost burnt down. That was an exciting autumn. The arsonist was a local boy, probably a redhead. Arsonists, like poets, are usually redheads. Emily Dickinson, carrot-top, started fires.
I went home for Xmas; a guitarist near a lagoon raped me. I survived the rape, but lost interest in aesthetic production. I built a bonfire of my notebooks. Sleepy, I contemplated the bonfire. Like most poets, I am a redhead. I made this mistake—the mistake I'm making, this very instant—years ago. It is a repeated error. I'm slowly reading fiery Joyce Carol Oates's A Widow's Story.
I went home for Xmas; a drummer near a lagoon raped me. I retreated to my room and wrote a poem. My cri de coeur, composed in a tiny notebook, concerned the rapist, who, like me, was a redhead—a species I idolize. And yet red hair is a fashion problem. We have a hard time figuring out what socks to wear with our khakis. Bewail the blank walls of our underfurnished rooms! That's the dilemma of a redhead rape victim with a compositional fire in his bonnet. "Recidivist, recidivist," you sigh, and I decide, in response, to torch your house. A fine predicament! We are poets gathered to mourn the death of Edna St. Vincent Millay, and the closing of the hospital after which she was named.
Avoid dark socks when you wear khakis. Spank anyone you can find. I love having temper tantrums. Authorities incarcerated me in a think-tank. I'm a tall version of Danny Bonaduce, who starred in The Partridge Family and later got involved with drugs. I'm a better singer than Danny Bonaduce, topless pin-up ne'er spanked by Shirley Jones.
For years, I've avoided writing. Feared it. Hated holding the pen. Despised my own thoughts—their fecal breeze. Then I put on a pair of khakis, and my attitude brightened. I discovered sestinas! I wrote a diatribe in rhymed couplets: "Essay on the Doldrums." My funk returned. I hunched over my desk. My father tried to hang himself by his own underwear. Underwear is a security issue.
Pale khakis with dark socks are a crime against nature.
Oeuvres are too cramped for our desires. Sarah Bernhardt transcended manure.
The Communist Manifesto was too small for Karl Marx.
Pyromaniac, peon, I'm czar of Amerika's national parks.
The Lover was too small for Marguerite Duras.
Bleecker Street is wrecked by Marc Jacobs and Hugo Boss.
"Wanna Be Startin' Somethin'" was too small for Michael Jackson.
To introject strong stresses, I deep-throat Anglo-Saxon.
Fallingwater was too small for Frank Lloyd Wright.
O, khakis I am wearing, you are my only recourse tonight!