Spring 2014
Foundations
Histories of London Stone
Hugh Raffles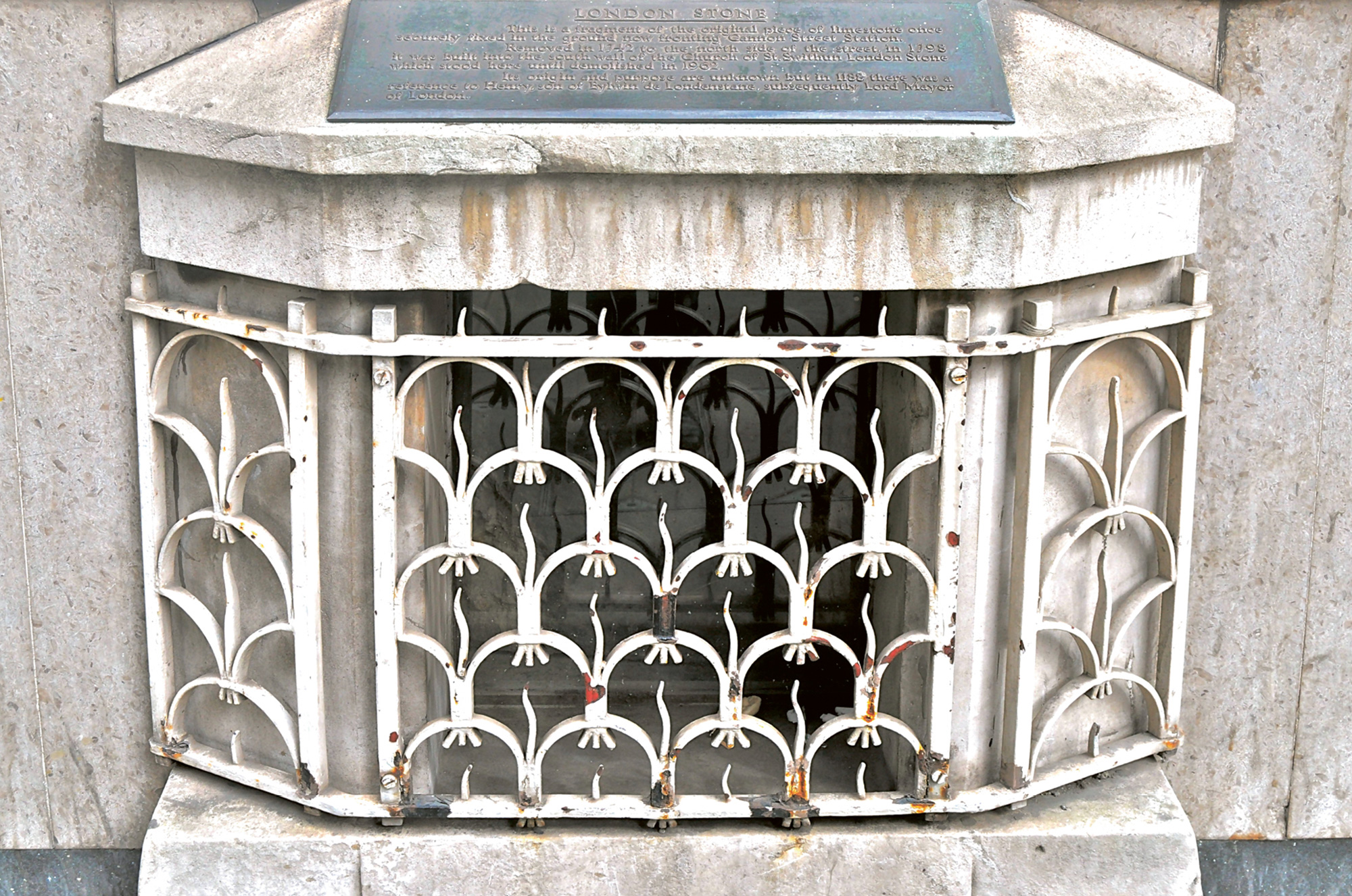 It's a wet November evening and the only movie that tempts us is Patrick Keiller's London at the NFT. We take a crowded tube to Embankment and, heads lowered against the sting of slanting rain, brave the swaying footpath on the Jubilee Bridge, dark outlines hurrying over the darker river. When we reach the South Bank, the theater's drab concrete brutalism is one with the movie's unforgiving camera and mournful voiceover.
London 1992, the interminable Thatcherite decline and its dispiriting mediocrity. Long, static takes of deserted streets and distracted pedestrians, neglected monuments and vacant office buildings, road works, traffic, swirling river water, and the same two protagonists always just off-camera—Robinson, a disenchanted academic type, and the anonymous Narrator with his doleful commentary—world-weary ex-lovers on meandering walks through the dejected city.[1]
It takes forty-five minutes for Keiller to get them to 111 Cannon Street, an undistinguished 1960s office building. And there, jutting out to the sidewalk in its glassed-in ironwork cage, is London Stone.
They stop and stare down. "This," says Robinson, "is the airborne vessel on which the magician Bladud flew to London where he crashed on Ludgate Hill, the last stone of a circle that stood on the site of St. Paul's. ... This is the stone that Jack Cade, the Kentish rebel, struck with his staff when he took possession of the city."
The Narrator interjects that he thought the stone was a Roman milestone. But Robinson, inspired, declares the route of the Number 15 bus—which runs along Cannon Street—to be a sacred route.
• • •
Next morning the rain's still coming down. We exit the Circle Line at Mansion House, unfurl our umbrellas, and locate the stone on a helpful map outside the station. It sends us down St. Swithin's Lane to Cannon Street. The heart of the City, London's most ancient quarter.
We stare down at the yellow-gray stone in its glassed-in cage, on top of which is a metal plaque that reads:
This is a fragment of the original piece of limestone once securely fixed in the ground now fronting Cannon Street Station.
Removed in 1742 to the north side of the street, in 1798 it was built into the south wall of the Church of St. Swithun London Stone which stood here until demolished in 1962.
Its origin and purpose are unknown but in 1188 there was a reference to Henry, son of Eylwin de Londenstane, subsequently Lord Mayor of London.