Fall 2014
Legend / Treatise on the Veil
The toplessness of the low-key bruiser
Wayne Koestenbaum
"Legend" is a column by Wayne Koestenbaum in which he suggests one or more possible captions for an image provided by the editors of Cabinet.
---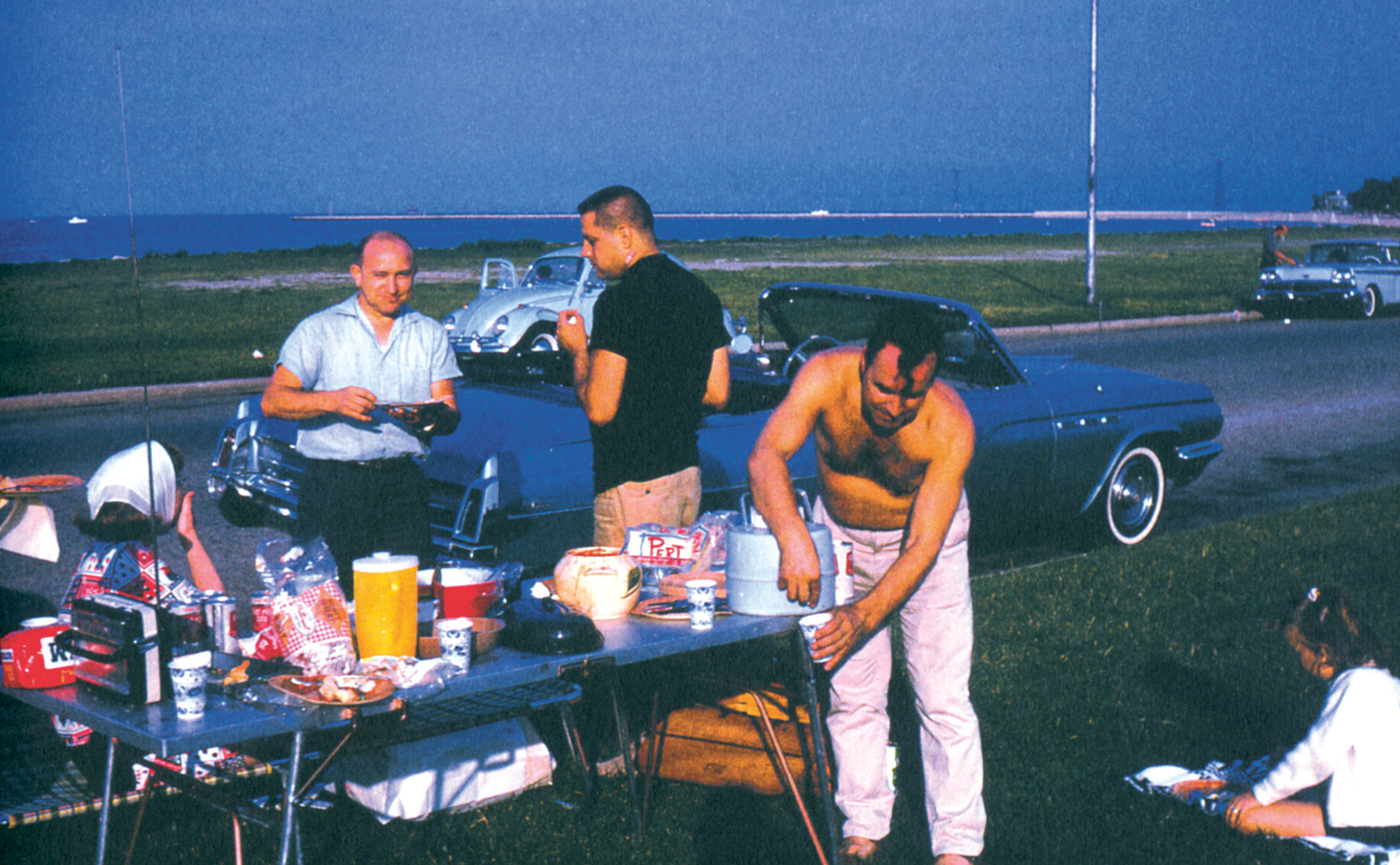 What men in literature have taken off their shirts? Start with King Lear. Compile a topless catalogue.
Interruption: yesterday, I saw a Cy Twombly painting, Treatise on the Veil.
(My words, today, are veiled. Philosophical patina shrouds them.)
Forget Twombly for a moment. Consider, instead, a shirtless man in an anonymous photograph. When a guy goes topless on a warm day, no one asks questions, arrests him, or calls him an exhibitionist.
Why haven't the other two male picnickers exposed their torsos? Perhaps they don't want to overshadow their bare-chested friend by showing off superior pectorals.
If the young girl seated on the lawn were to disrobe, she'd be scolded, shunned, sent to a psychiatrist. If the white-kerchiefed woman in a folding chair were to doff her blouse, she'd be considered pathologically uncivilized.
The shirtless man, whom I call Pasolini, wears the veil of certainty. Shamelessness—confidence that he needn't confess seamy motives for partially disrobing—cloaks him.
Wittgenstein felt no such firmness about motives. Skepticism about the link between word and experience kept him in a pup tent, sequestering him from neighbors.
The shirtless man dwells within a pup tent, too—a portable structure built of cocksureness. Protected from remorse, he satisfies thirst by depressing a lever and releasing unidentified punch into a paper cup.
The day isn't warm enough to justify his impulse to half-strip. Remember that the woman in the folding chair (I have no proof that it is a folding chair) has veiled her hair with a white scarf. Perhaps she considers her coiffure too elementary or provisional, and therefore unfit to be seen. Perhaps she has heard storm warnings. Notice that the most attractive man in the photo wears a black T-shirt, which retains heat. If the day were a scorcher, he wouldn't opt for black. Sometimes I call him Twombly, because the painter spent time on Capri while making studies for Treatise on the Veil. Other times I call this black-shirted man Freud, because he reminds me of a psychoanalyst friend, an alluring Israeli, with whom I've discussed the complicated veils surrounding a sexuality that expresses certainty by employing words like gay or queer (or newer terms) but that actually doubts its own contours and tries to hide the confusion, as if it were shameful to be blurry-minded about desires that long ago declared war on obfuscation and other "grief-tranced" detours.