Winter 2014-2015
Colors / Off-White
Trembling at the edge
Matthea Harvey
"Colors" is a column in which a writer responds to a specific color assigned by the editors of Cabinet.
---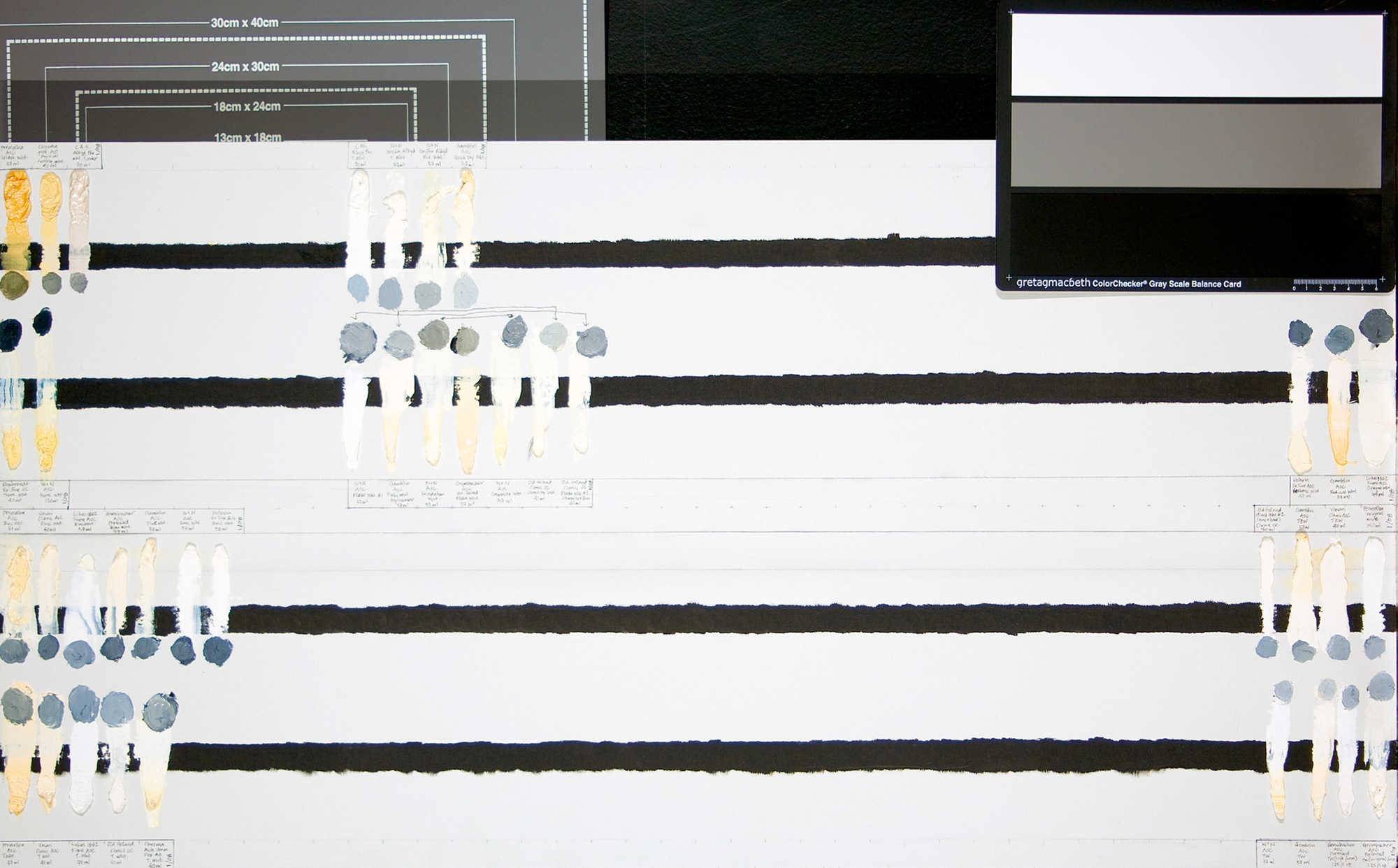 White is not my color, nor off-white.
I got married in a brightly striped dress and do not own one piece of white clothing. My walls are painted "melon popsicle," "beach glass," and "green apple." However, at the paint store, there is a special display case of Benjamin Moore's one hundred and forty off-whites, which I duly collected and brought home like the paint-chip hoarder that I already am. Most of the off-white names tend to fall into a slim set of positive categories: dessert-related ("vanilla milkshake," "cake batter," "sugar cookie," "mascarpone," "crème caramel"), wintry ("icicle," "white ice," "frostine," "ice mist"), and bridal ("wedding veil," "white diamond," "Chantilly lace," "white dove," "strand of pearls").
Read from top to bottom, the names on each four-color strip can sound like haiku bullet points: "Simply white / moonlight white / old prairie / camouflage" summons up a girl in a white nightgown wandering the prairie at night who is mistaken for a goose and shot. "Pale moon / antiquity /man on the moon / calming cream" shows the distant, steadfast moon shining on Greek temples, then zooms in as Neil Armstrong's moon boot touches the virgin rock, while back on earth the attendant stresses of modernity necessitate a "calming cream," a kind of cortisone for the nerves (potentially residing in a moon-shaped jar for a nice visual echo).
Not all of Benjamin Moore's paint chips are organized in four-color block forms. Large, single-color squares labeled Color Stories feature one-sentence stories on the back, which sadly are not at the level of Lydia Davis's single-sentence gems. "Lace handkerchief" reads, "She tucked the borrowed handkerchief into the sleeve of her wedding gown before gliding down the aisle to her beloved." The suggested color pairing is more evocative of narrative: "Lace handkerchief" coordinates well with "amaretto" and "brownstone." Or consider the seemingly successful outcome of this date: "First crush" paired with "subway tile" and "crisp linen." "Penthouse" coordinates well with "modern romance" and "plum martini," and "upper west side" with "strand of pearls" and "whisper." Clearly there's something aspirational going on in this naming, other examples of which include "Oxford white," "Hampton white," "white opulence," and "palace white." No suggestions for pairing "wifebeater" with "cigarette ash" and "peed-on snow." Martha Stewart's paint line proffers the wholesome lineup "glass of milk," "sugar white," "daisy white," and "fine white."