Spring 2015
Timber!
The flume ride as a legacy of West Coast logging
Adam Morris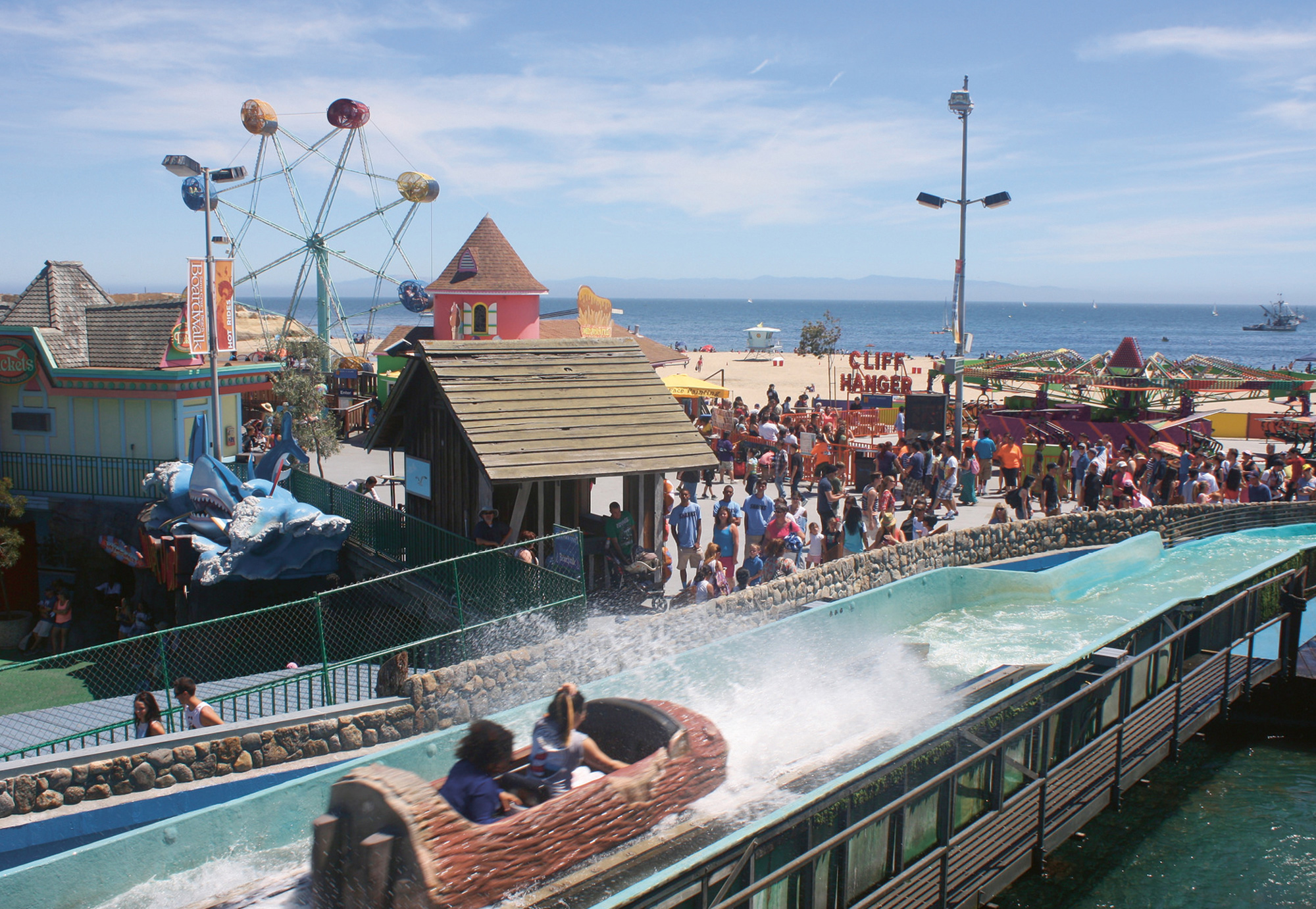 Pioneered in the 1960s, the flume, or "log ride," has spent the past fifty years conquering the world of amusements. Created to commemorate triumphalist narratives of the American West and offer a few minutes of simulated participation in rugged frontier life, rides modeled on logging flumes are found in nearly every state in the US, as well as across Europe and Asia. They typically feature a multi-person boat in the shape of a dugout canoe that is carried up an incline by conveyor belts before meandering through winding half-pipes of heavily chlorinated water. The final plunge into a log pool generates a spray for riders and bystanders, and is now usually captured on camera for the purpose of souvenir photos. Variants for children cultivate a taste for the ride from an early age.
The flume is perhaps the most iconic vestige of Arrow Development, a small design firm founded by a pair of US Navy technicians named Ed Morgan and Karl Bacon. The two principals had met as wartime engineers for Westinghouse in suburban San Jose, California, an area now part of Silicon Valley, which was (and remains) a hub for military-industrial manufacturing.
Theme parks did not yet exist when Arrow was incorporated in 1943. There were "kiddielands," carnivals, and seaside boardwalk parks. But the metals required for the modern theme park—born with the opening of Disneyland in 1955—were reserved for the war effort. The fledgling company roped in whatever contracts it could manage from nearby clients, including the Stanford Linear Accelerator, Hewlett-Packard, and a local crop duster company.
After designing a few playground apparatuses for local parks, Arrow was contracted to develop a twenty-foot merry-go-round for Alum Rock Park in San Jose. Morgan and Bacon still knew more about fighter planes than carousels, but a friend in the carnival business in nearby Palo Alto let them study his merry-go-rounds. Their innovation—a steel, rather than wood, carousel—was the first in a series of revolutionary Arrow inventions. The firm parlayed its carousel success into a brand specialty, landing a contract for a mechanized boat ride on Oakland's Lake Merritt called Lil' Belle. Before long, they had developed a rotating airplane ride that found buyers at parks across the country. When they heard about plans for Disneyland, Morgan and Bacon got permission to take Lil' Belle to Burbank for Walt Disney's personal inspection. Disney loved the ride, and commissioned the firm to design several more for the park, including four of the park's five opening-day attractions. Disney would prove a scrupulous overseer, often turning up unannounced to test Arrow's prototypes.