Summer 2017
Ingestion / Squirrels and Spiders
A table set, a wild animal, and us, invisible
David B. Goldstein
"Ingestion" is a column that explores food within a framework informed by aesthetics, history, and philosophy.
---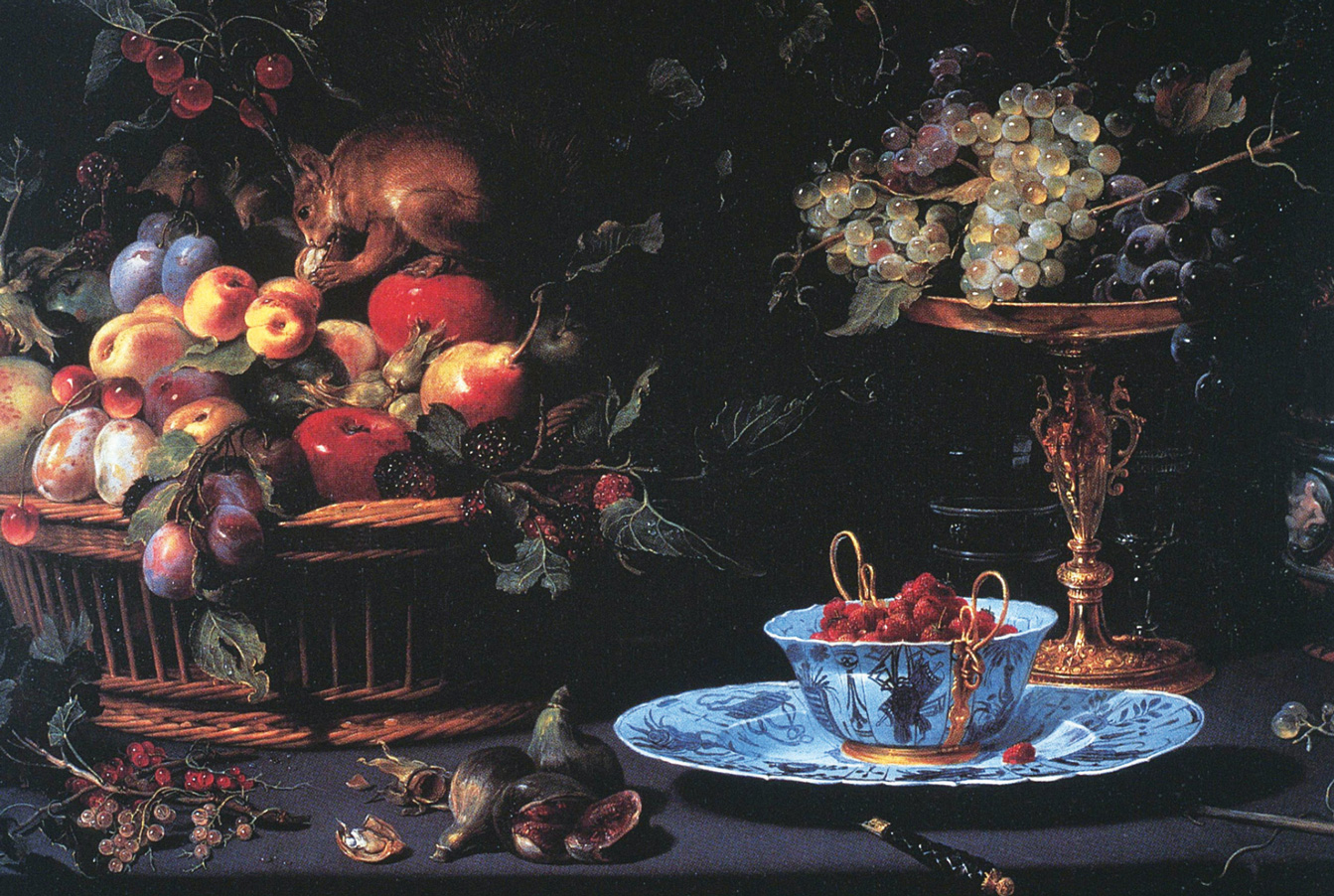 We are sitting motionless in a room lit only by the light of its windows at the moment before dawn, or perhaps by the kind of cloudy afternoon that all too frequently washes the city of Antwerp. We have returned to a scene at once primal and urbane—a scene of overflowing fruit, spilling out over expensive Chinese porcelain and Venetian glassware. The fruit looks sweet, and is perhaps forbidden to us because of its sweetness, though who can really say what is forbidden and why. All we know is that the fruit acknowledges and solicits our frank hunger. The silent table groans with a careless wealth now rendered useless and forgotten. So still is this room that an opportunistic squirrel has gained entrance and is making a meal of this bounty. If we can't eat it, the squirrel is more than happy to oblige. At the end of our long gaze is only this: the reclamation of our agricultural toil by our inadvertent animal "messmates."[1] A vacant room, a table set, a wild animal, and us, invisible, peering, perhaps screwing up our courage to snatch a fig or currant, to feast upon the void.
Frans Snyders, the first great Flemish master of the still life, undertook Still Life with Fruit, Wan-Li Porcelain, and Squirrel in the first flush of his mastery. At the age of thirty-seven, following a productive apprenticeship with Pieter Brueghel the Younger and a long Italian sojourn, he was establishing himself as a renowned painter of fruits, game, and markets. The son of a wine merchant who, along with Snyder's mother, also ran a busy Antwerp inn, the painter grew up steeped in a bustling world of urban cuisine. Throughout his life he remained fascinated by the ecological relationship between humans and their food and how both shape a complex culture. He died at age seventy-eight, in 1657, a wealthy man, possessed of a reputation that has not dimmed. "Even the least imaginative historian," writes Walter Liedtke, "might be tempted to call [him] the Rubens of still life painting."[2]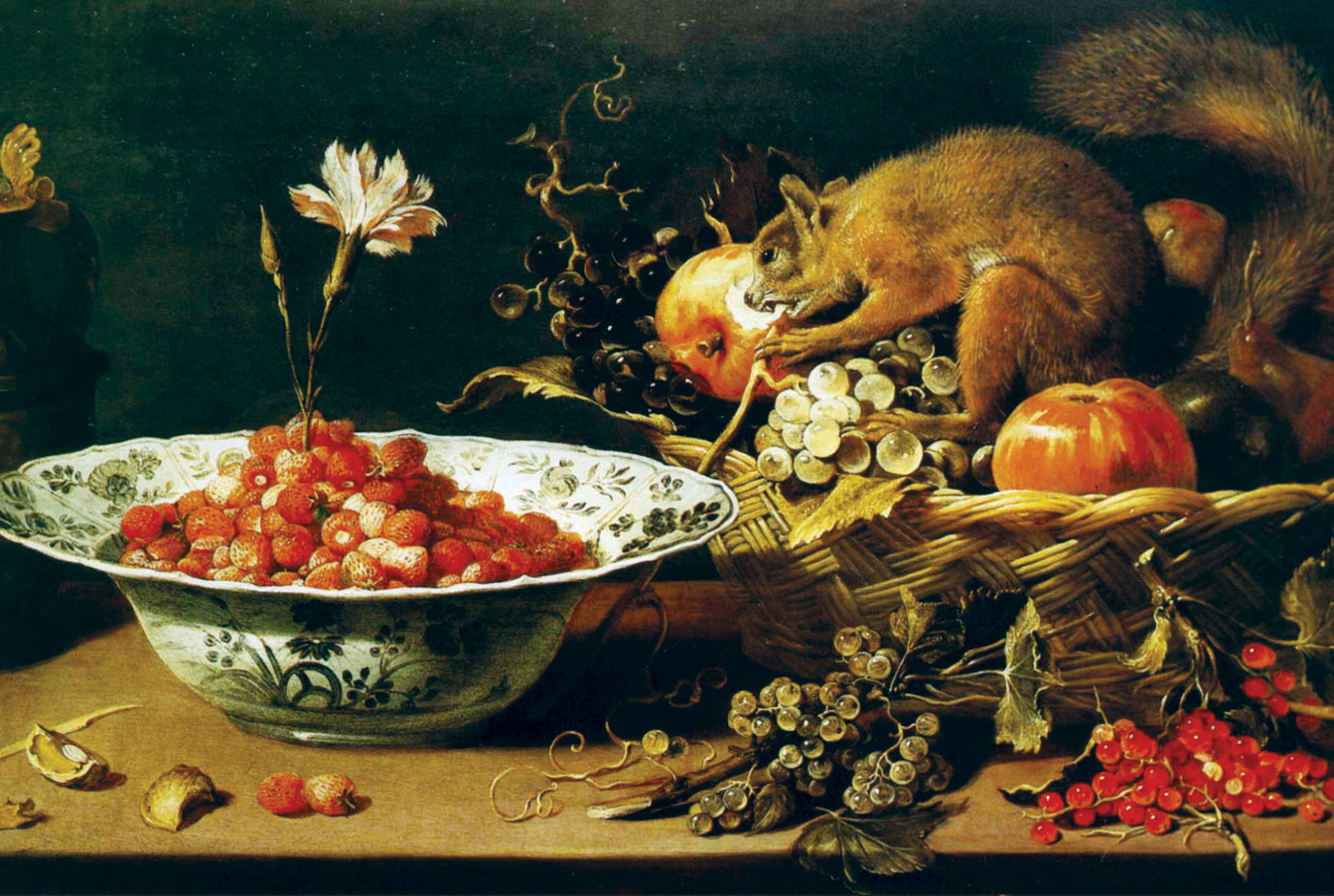 Snyders had painted the first of what was to become a subgenre of squirrels perched atop fruit a year earlier, in 1615. Fruit Piece with Squirrel, with its contracted focus upon squirrel, fruit, and porcelain bowl, seems like a study for the later painting or an epitome of it. But Snyders's narrowed lens produces a different effect. In the 1615 painting, Snyders has the offending squirrel crouched over an apple it is actively consuming. Meanwhile, broken walnuts and fallen strawberries—evidence that the squirrel has been at work for some time—litter the table. The painting presents a grotesque display of competing species, with the squirrel's teeth and possibly even its saliva marking the fruit as a contested prize. Once the creature has bitten into it, we're less eager to take it for ourselves. Rather than a scene of bounty, it is manifestly one of decay and waste. The squirrel echoes the viewers' own rapacious appetites, our teeth tearing uninvited at fruits our host has strictly forbidden us to touch. We too have transgressed, and are transgressing still.