Spring 2018–Winter 2019
Inventory / Of Bookstacks and Filing Cabinets
Inventing the modern library
Laurel Rogers
"Inventory" is a column that examines or presents a list, catalogue, or register.
---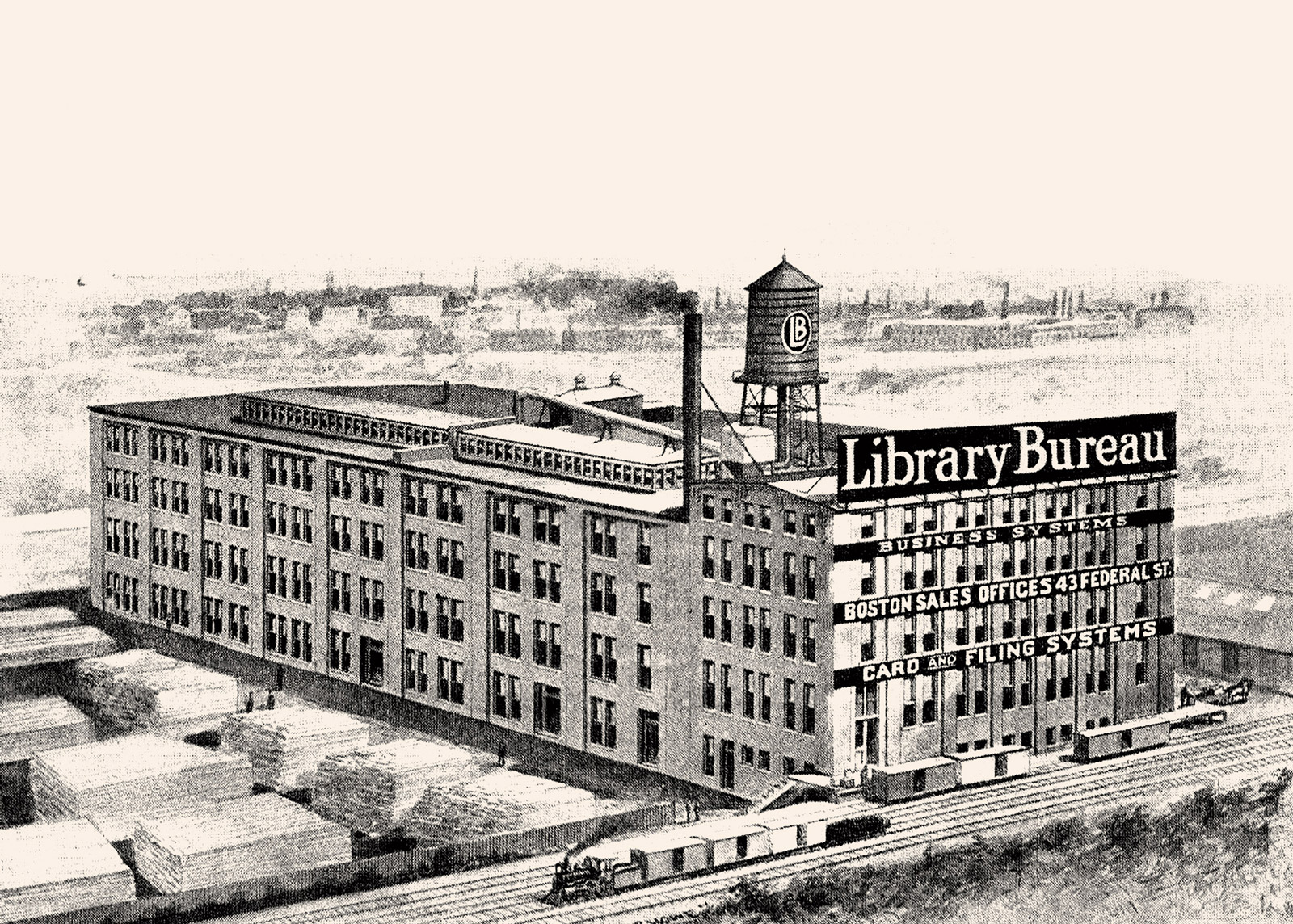 In 1876, a Bureau of Education report announced that at least 2,240 public libraries had opened in the United States between 1850 and 1875.[1] The great acceleration of the free public library movement reflected a general trend during the "Bureaucratic Era"—a period corresponding to the Gilded Age and Progressive Era (approximately 1870–1920)—toward the provisioning of public services and the institutionalization of nearly every aspect of society.[2] These state-sponsored initiatives not only to construct new libraries but also to expand existing ones were concomitant with the surge of educational reforms that aimed to cultivate the burgeoning middle class and assimilate the growing immigrant population. Soon, a number of corporations emerged to supply these spaces of learning with the standardized equipment they required to operate as efficiently as possible.

The library report was read at the second Convention of Librarians on 4 October of the same year, which assembled at the Historical Society of Pennsylvania in conjunction with the Centennial Exposition in Philadelphia, the first official world's fair in the United States.[3] Among the 103 members in attendance were many notable librarians and educational reformers, including Charles Ammi Cutter, William Frederick Poole, Samuel Swett Green, Justin Winsor, and Melvil Dewey.[4]
A broad range of issues concerning library economy was discussed during this conference, such as strategies for encouraging more reading among the general public, the importance of free public libraries with circulating books, the efficient management of collections and catalogues, the professionalization of librarianship, and the necessity for the development and implementation of library standards and protocols. On the third day of the conference, a register was passed around that all attendees interested in becoming charter members of a new official committee of librarians called the American Library Association (ALA) were invited to sign.[5] The established purpose of this committee was "to enable librarians to do their present work more easily and at less expense."[6]
Dewey, a legendary and controversial figure in the history of library science, played a significant role in the organization of this formative gathering, which he used as a platform to introduce his recently patented indexing scheme.[7] This scheme, soon to be known as Dewey Decimal Classification (DDC), would go on to become the most widely used classification system in the world and directly influence many other seminal systems, including Cutter's Expansive Classification, which served as the basis for the system adopted by the Library of Congress in the early 1900s, and the Universal Decimal Classification, conceived by the Belgian bibliographers Paul Otlet and Henri La Fontaine in the late 1890s and still used today in some 130 countries.