Iron Artist
Date: Saturday, 10 June 2006, 3–5:30 pm
Location: P.S.1, Long Island City, New York
FREE with admission.
Presented by Cabinet and P.S.1 as part of the series "Fine Print: Alternative Media at P.S.1"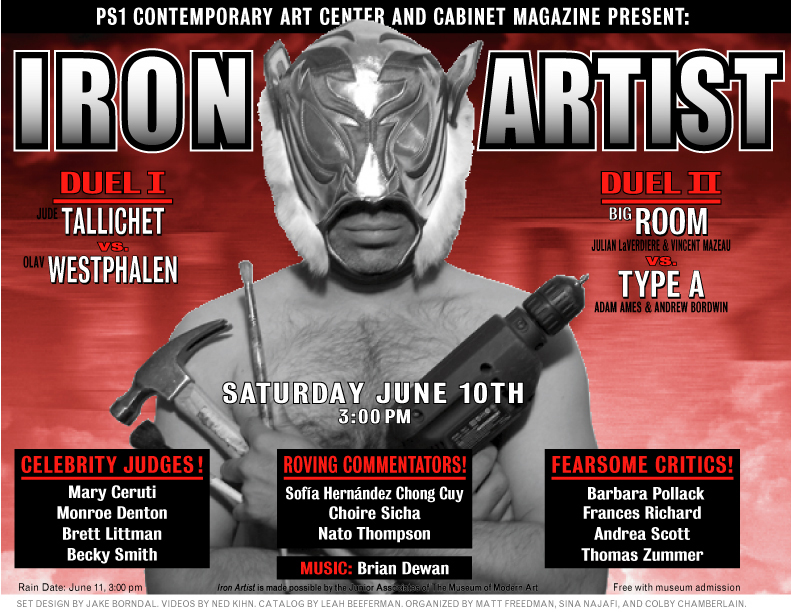 The Competition
The event, whose point of departure was the original Japanese version of Iron Chef, was an over-the-top multi-media spectacle of competitive, real-time art-making. It consisted of two duels, each lasting forty-five minutes. Using materials and tools available at the venue, the opponents in each duel made an artwork in response to a secret theme revealed to them on the spot. While artists created their work before the audience, running commentary was provided by a panel of celebrity judges, roving reporters, and prominent New York critics.
The Artists
Duel I: Jude Tallichet against Olav Westphalen
Duel II: Big Room (Julian Laverdiere & Vincent Mazeau) against Type A (Adam Ames and Andrew Bordwin).
The Commentators
Roving reporters gave "play by play" commentary from the thick of the action. The reporters were MASS MoCA curator Nato Thompson and Art in General curator Sofía Hernández Chong Cuy. The event was anchored by Matt Freedman and New York Observer senior editor Choire Sicha. Iron Artist was captured on video and displayed for the audience on TV sets in real time, along with special video segments filmed and edited by artist Ned Kihn.
The Critics
A critic was assigned to each artist and commissioned to write a catalogue essay while works were still being made. A catalogue for the entire event, along with the essays and images, was designed by Cabinet graphic designer Leah Beeferman and printed up within half an hour of the end of the show in time for an opening reception for the artworks. Participating critics include: Cabinet editor-at-large Frances Richard, Time Out New York arts editor Andrea Scott, writer and artist Thomas Zummer, and artist and arts writer Barbara Pollack.
The Music
Artist and musician Brian Dewan provided musical accompaniment on organ.
The Judges
A panel of four judges gave marks based on originality, execution, and how closely each artwork responded to the assigned theme. The judges were Mary Ceruti, executive director of the Sculpture Center; Monroe Denton, collector of contemporary art and a critic; Brett Littman, deputy director of P.S.1 Contemporary Art Center; and Becky Smith, owner of Bellwether Gallery in Chelsea.
Iron Artist was conceived by Matt Freedman and Sina Najafi, and co-organized with Colby Chamberlain.
"Iron Artist" was made possible by the Junior Associates of the Museum of Modern Art.
---
Download a PDF of the booklet documenting "Iron Artist" here.